Ad Arma unterstützt mit ihren Tischen nicht nur andere Veranstaltungen wie z.B. kürzlich das Rhein-Main-Multiversum, sondern richtet auch eigene Cons aus, wie an diesem Samstag in Meckenheim.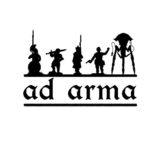 Samstag, 11.05.19 - 10 bis 18 Uhr

VG Turnhalle
Rödesheimer Str. 29
67149 Meckenheim (Pfalz)

Der Eintritt liegt bei 5 EUR und es wird eine exklusive Miniatur zur Ad Arma 2019 geben, sowie zahlreiche Demotische, darunter:
Frostgrave, Battlefield Gothic, Battlegroup (WK2 15mm), Shoot out in Dingstown, Ninja All Star, Kampfzone Front '46, Ziterions Magisches Turnier, Point Blank (WK2 1:72), Wild West Exodus, Wolsung, Dust 1947, Gangs of Rome, Fallout Wasteland, Star Trek, Poor Bloody Infantry, Warhmmer 40k, Saga (Asterix & Obelix), Dead Men's Hand, Squig Hoppa Race, Lord of the Rings (15mm), Black Hawk Down, In Clouds of Glory, Alien vs. Predator, Kill Team Arena, Briskar, Art de la Guerre, Predator 1987, Star Wars Legion und Bushido
Die diesjährige Con ist nicht ihre erste Veranstaltung, Ad Arma kann auf eine gute Tradition zurückblicken, auch schon unter dem alten Namen Dice & Bayonets. Noel ist ein alter Freund von mir, weshalb ich schon mehrfach das Vergnügen hatte eingeladen worden zu sein und in den vergangenen Jahren, unter anderem 2017 in Speyer und den alten D&B 2014 und D&B 2015 Events dabei zu sein.
Und Ad Arma ist auch häufig auf Tour, weshalb ich Noel und seine Jungs schon mehrfach auf Spiel, Tactica und weiteren Shows angetroffen habe.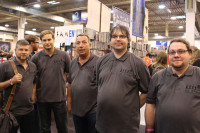 Denkt an eure Geldbeutel, denn es gibt auch einen Bring & Buy und mehrere Händler.
Link: Ad Arma
hat dir dieser Artikel gefallen?
Like us on Facebook

Follow me on Instagram

Kategorien
Blogroll
Schlagwörter
Archive