Warlord was running a sprue sale over the last few weeks, with multiple different items on strong discounts. Oddly enough, I just ordered 5 days before the sale started, so I had two orders on the run. And the second one overtook the first one. Well, stuff like that happens.
So what did I treat myself with? As I have a bit of cavalry to base and I ran out of my favorite cav bases, I bought quite a lot of the 25 by 50 mm rounded bases. 18 sprues in total so I am set for the next few projects, including the WotR/HYW mounted troops.
Among the sprues I ordered were two upgrades for the Sd.Kfz., one for the Stummel and for the Mortar. With the upgrade sprue and a spare Ausf. D that I had around, I could build the Sd.Kfz. 251/9 Ausf. D. My only problem was, that the upgrade sprue didn't have any assembly instructions, but the Bolt Action Community could help out and send me the pictures. Thanks for that guys!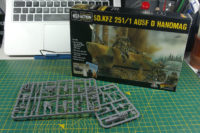 The built is quite easy and forward, the interior is mostly the same, just the benches are swapped for the Stummel variants. The instructions could be a bit clearer, especially as some of the slots don't fit and other items are freely positioned. A second picture from the other side would help.
The Stummel was build in two variants, one on top as a frame (Ausf. D) and another one embedded (Ausf. C). Due the easier solution as an upgrade sprue, the Ausf. D is the only one currently available as a plastic kit by Warlord Games.
The kit comes with a crew member in regular uniform, but Warlord Games offers a crew in Winter kit. As I'd like to use that vehicle with my winter germans, these are a nice upgrade and probably could be used with kits like the Marder or some SPGs.
Did you participate in the Sprue Sale? What did you get?
Enjoy this article?