The last Bolt Action campaign review that I published was Battle of France back in April, I'm currently still working on the Fortress Budapest book. It is massive and a part of the war, that I am not that familiar with, so it takes a bit more time of preparation. In the meantime the next supplement, Campaign D-Day: Overlord was released, along with a matching summer campaign.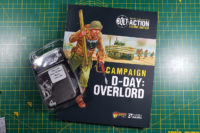 And let me tell you, this book is massive. It is the thickest supplement so far and covers an incredible amount of content. The Western Desert was the biggest so far with 168 pages and just look at the difference.
The special miniature has two different dogs with him, and the operation was that big, that it just invites you to use the other two world war 2 systems by Warlord Games in combination, Blood Red Skies and Cruel Seas. Some of the pictures already show for example the Cruel Seas landing boats. So just to let you know, I'm working on completing these two campaign reviews, along with the Cruel Seas starter kit.
I have a couple of the new Contrast Colours here at the 'bunker, unfortunately the weather is hindering me on progress on the article series. With that heat, the paint just vaporates on the palette, making it difficult to paint at all.
I'll do a multi-part series, with an intro on the history of Citadel Colours, the second part on handling the paints themself and the third article with a sum-up, what the overall feedback towards the new presented range is. If you have any wishes or recommendations, that I should cover for you in the series, let me know.
Oh and as a special treatment, I'll go deeper into the Oldhammer topic. I was able to get my hands on some new-in-box / unopened Warhammer kits from the mid 90s, and I'll do some special reviews on them. These will be similar to the other reviews that I do, but will highlight the changes with the different releases, as well as a guide on buying them (for example likely missing or damaged pieces, things to look for and such). Those will cover Space Marines, Chaos, Eldar and Imperial Guard.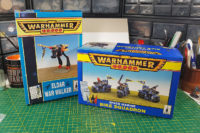 But as not all items are available mint or NIB (at least not for reasonable prices), I'll cover the topic of paint stripping and restauration of miniatures as well.
Tomorrow is Warhammer Day, and I'll drop by at my local Warhammer store in Koblenz and likely be posting a couple of pictures on Instagram and such.
Enjoy this article?