As covered in the article on CONflict two weeks ago, I'll be taking a summer break on events after this weekends TableTopia. But you'll find the event coverage on the blog on sunday, maybe late saturday.
If you're following me on instagram or facebook, you might already know, that I have some promo material for Munchkin Warhammer 40k, that I recently reviewed on the here. Pegasus Spiele sent me bookmarks and the For the Emperor cards. Want some? If you see me at a show or convention, ask me and I'll give them out as long as stock lasts. Beginning today at Aschaffenburg.
I really hope that I get my hands on the two older event miniatures, more on that on my event report. What else will be covered the next days? Well, temperatur went down by a bit, enabling me to get painting. So the Citadel Contrast review series (yeah, you read that right, series, not just a single article, but three of them) is good to go and to start beginning next monday.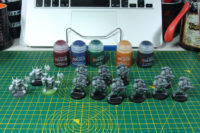 Do you remember the Battlewagon that I converted / started to convert into a Underhive utility vehicle?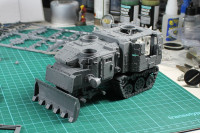 Well, I got some more kits, that fit the idea of industrial or utility vehicles of the underhive and will to a themed week, with the un-orked Squigbuggy, the Goliath mining vehicle and the hive-swamp ferry.
What vehicles did you convert for your Necromunda projects? I can suggest the scout bikes or new GSC bikes as well. That's it so far, I'm off to Bavaria. Take care!
Enjoy this article?