Radaddel celebrate 25 years of tabletop in their store, and even added a delicious jam to your orders during the celebration. I know Matthias for more than 10 years now and that jam thing caught me, so I ordered two boxes of Adeptus Titanicus and got strawberry jam on top of it. Yay!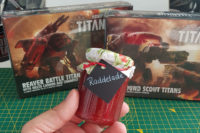 Why Reaver and Warhounds? Well, I had a blast reviewing both kits last december during the Titan themed week, the regular Reaver is a fine kit, but the "evil" one with Melta Cannon and Chainfist is really great. Originally I had planned on buying the battlegroup, but that one is currently not available through my resellers (I'm simply not paying retail on a box with that price tag), I went with the Warhounds that they had on sale with 25% during the celebration and added the Reaver to it.
The reason why Titanicus hooked me again currently is mostly through the amazing builds that I saw on Instagram. Anvils of Konor, whom I followed because of his superb Horus Heresy 30k Death Guard army, added more and more Adeptus Titanicus stuff to it, covering the Legio Mortis (a perfect fluff match, as they fought alongside the Death Guard). He is on facebook as well. Then there is Broncofish, who's a generic AT addict and does neat conversions and terrain, even printing his own weapon and iconography.
And for terrain, I am looking into 3d printed terrain and stumbled over Grim Dark Terrain on IG as well. He's still working on the STL and it may take a long time until they are actually published, but I like the input. On Thingiverse already are a couple of interesting items available and I tinkered around with them for base design.
Currently I have a loyal Warhound and Reaver, and a traitor counter part.
With the second box of Warhounds, I used the optional carapace armour designs to give them as much difference as possible. So basically having two loyals and two traiters. As I gave the traitor already a Inferno gun and Vulcan Mega-Bolter and the loyal one a Plasma blastgun and a Turbo-laser Destructor, I added the same layout of Plasma & Destructor to the second traitor, and Destructor & Vulcan Mega-Bolter to the second loyal. Along with switching the poses and armour plates a bit.
As for the reaver, this one will be joining the traitor legion as well. So I went with double Volcano cannon.
It is a bit sad, that the weapons don't come with an alternate set of power supply for the "off-hand", so I cut off the L-curved connectors from the right layout and added them to the weapon, turned by 180°, for the first step. I'll have to do build a connection with guitar string or green stuff.
And as I already have the Apocalypse Missile Launcher on the loyal Reaver and the Turbo Laser Destructor on the traitor one, and unsure about what to give the third one. First I was thinking about the Warp Missile rack, but there is no way that I am going to pay 14 EUR for that. So I had the parts for the destructor here and was going through my bit box and decided to use one of the Plasma Blastguns from the Warhound kit to kitbash that for this Reaver. I was thinking of the Volcano gun as a carapace weapon, but didn't had the right idea to combine the bits. Quite happy with the result of the plasma blastgun, a bit of putty here and there to close the gaps but otherwise, fine.
I was on vacation over the last one and a half week, took a couple of day trips showing my relatives around and watched a bit of Netflix shows during the evenings, while I was building the kits above and preparing some of the upcoming reviews (among others Marauder Destroyers, Ravaged Lands). I binged Mindhunters through Season 1 and 2, well done and quite entertaining. I do enjoy american stand up and watched Sticks & Stones by Dave Chapelle, as well as the recently released Paper Tiger by Bill Burr. Chapelle does a great job, where as the latest special by Burr is okay, he has done better ones.
Those of you, who follow me on Instagram might have seen some of the pictures. We enjoyed some great food over the last few days along with top notch weather and I'm reminded of what a beautiful part of the country we're living along the Rhine and greater Koblenz area.
While in the car or at the desk I listen to podcast, primarely Joe Rogan. #1335 with Jim Gaffigan, who is an entertaining stand up comedian as well, was rather m'eh. I'm currently listening to #1348 with Bill Burr, and they share a lot of crazy stories, really entertaining. And there are quite a couple of hours in the backlog to catch up, #1342 with the legendary John Carmack (id Software), #1351 with Dan Aykroyd, and #1347 a new episode with Neil DeGrasse Tyson, who's been multiple times with Rogan and is a great combo of info-tainment.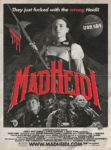 And I stumbled across Mad Heidi, the first swissploitation movie. The trailer is so crazy and over the top. Fondue Boarding ... hilarious!
I'll put this in my movie backlog, that I somehow have to manage to catch up, maybe over christmas so. Because there is a lot of new stuff on that list, the 5th Season of Peaky Blinders, The Dead Don't Die (with the magnificent Bill Murray), the Deadwood Movie (along with a re-watch of the original series), the two Churchill movies (The Darkest Hour and Churchill) and the latest installment of X-Men, Dark Phoenix. And some really B-Movie grade stuff like Clash of the Titans and Wrath of the Titans. A solid part of this is available for free on Prime or Netflix, which is a treat, for the other stuff I'll have to either see where I can catch a screening of those movies or get a cheap pay-per-view offer.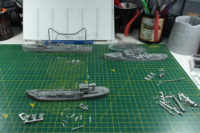 Currently I'm working on three large vessels for Cruel Seas to follow up on the review of the starter set. Very lovely detail on the resin bodies. The additional metal pieces are a bit of pain, as we're talking 1:300th scale, so quite delicate pieces. Well, more on that in their reviews.
I'm currently planning my schedule for the upcoming weeks, there is a participation round day hosted by Games n' Dice in Duesseldorf at Drachental covering multiple games on saturday 21st and the next Bitbox on sunday 22nd. Enjoy your weekend, feel free to leave a comment.
Enjoy this article?