We began the new year with a brief vacation in England, with trips to London and Nottingham.
Spent the majority of the time in London, going for a city tour. We had our daughter with us, so this was a family trip and not a guys tour as some of the other journeys I have covered here. Therefore content and focus was a bit different, but I'll come to that later.
While in London, we went for some of the must-haves, parks and squares, that would be accessable with a stroller. While near Hyde Park I came across the Animals in War Memorial, and had to think of of the Man with the Donkey in Wellington, NZ at the National War Memorial. Of course, with my latest interest in the age of sail, and Black Seas, a visit to Trafalgar Square was out of question. And you know about my gusto for burgers, so having the chance to drop by one of the very few Shake Shacks outside of the United States, I just had to.
I got my daugher and myself a Lego Passport back in Hamburg, and when I learned about the fact, that the Lego Store at Leceister Square in London is the biggest in Europa and even carried some exclusives, that went on my must-visit list as well. Collected the travelling stamps for the passports, and an exclusive mini-fig Lester (40308), with bowler and umbrella, as well as one of the Creator set (40220) of the iconic London stock busses. That's the "small brother" of the Creator 10258 kit. I missed the fact, that Hamleys offers another exclusive mini-fig, a Royal Guard. Well, another trip...
Friends of my wife invited us to The Wonder Factory, a pop-up event in Dalston. A lot of sensory installations and our daughter loved it. So many interactive things. A room filled with confetti, that you could throw around and let it rain. Some led-installation that could be directly from a Daft-Punk music video and a pool filled with foam marshmallows. We all had a blast and took quite the lot of crazy pictures. The pop-up event will be around until february, so drop by if you have the chance. We will keep an eye on indoor playgrounds for upcoming trips.
With the great experience we had at Borough Market the last time we've been to London (for our Salute / Operation Sealion trip in 2018) - this was set. The market just opened up for the new year and was quite crowded. They added a new seating area, and we dug in into some tasty food. Had beer from Basque Country, Nana Fanny's salted beef bagel and amazing bread ahead doughnuts (the queue was insane...). Get some pounds, go there hungry, ideally with some friends to share some meals and dig in some great food!
Then we went north for Nottingham. On saturday, there was the Warhammer World Open Day, but that would be an event better enjoyed by myself or with some other hobbyists, and not with the family, as it is too crowded. So we did a bit of a city tour. Went to the Robin Hood statue, the old town and of course Ye Olde Trip to Jerusalem. Unfortunately Nottingham Castle was closed due to renovations, and the christmas market in the inner city was dismantled. Wargames Foundry is currently closed on the weekends, to that wasn't on the schedule either.
On sunday morning we went for Warhammer World - went for the updated tour through the exhibition and picked up the just released reprint of 1990s second Realm of Chaos book, The Lost and the Damned. I took quite a lot of pictures and will add these in new posts in addition to the 2018 coverage of our last visit. Warhammer World is one of the few hobby places, that you can easily bring your family along. The food at Bugmans Bar is proper, it is spacious and barrier-free (so handling a stroller isn't a problem), and even covers free wi-fi.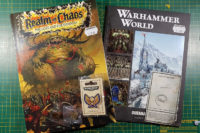 On monday we headed back with a stop at De Panne, a beach town on the southern part of the coast side of Belgium and we enjoyed some great weather in the morning. As written above, I have taken quite the lot of pictures, that I have to edit for further use and that will probably fill in my upcoming evenings.
It was a great holiday and the first one just the three of us for that long and even abroad. So we learned a bit on travelling with a kid, and I managed to balance hobby and family on this trip quite well. I have a few ideas that I'll prepare and want to share, on how to tackle such a journey.
Stay tuned and I hope you enjoy the upcoming posts this and next week.
Enjoy this article?