The intention to meet up (virtually) for a painting session did work quite well this week, with 6 participants in total.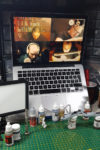 As we're not living close to each other, but spread all over the country, a virtual meet up is a welcome solution. Even if we were closer, due to many of being dads, we're more flexible this way to take a break or so. We did use Skype, but other options would be Discord or Facetime (if you're a pure apple crowd).
A few of the additions to the fantasy settlements already arrived, among them the Renedra outbuildings. I did a mixup and ordered instead of the Timber one a Timber-Waddle building. Those will be covered more closely in the "the settlement grows further" (as a follow up on the Settlement grows), but so far I can tell you, those roofs absolutely need a touch up.
The pictures for the Centurion Mk III review are taken and I am currently working on the R-Boat and Fairmile MTB kits for Cruel Seas.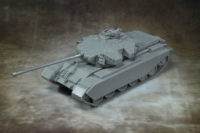 I treated myself with the best kit of the latest Lego Technic wave, 42102 Mini CLAAS Xerion. Great part donator, as you get quite the load of cogs and wheels. Ignore the Hot Wheels in the background, they are absolutely not for Gaslands. Silly idea.
This week was the Toy Fair 2020 in Nuremberg. It's a pure B2B show, where the manufacturers show the traders the upcoming novelties. You could see quite a lot of coverage online, for example by RoterDorn @ SpielwarenMesse and MigJimenez. Model kits are a strong topic at the toy fair, and among them Italeri showed the italian tanks in 1:56 that we will see for Bolt Action this summer.
Games Workshop showed a couple of teasers (a bit unexpected, as the Las Vegas Open were just days ago) and I am really excited about the new Adeptus Titanicus kits coming in February and new additions to Aeronautica Imperialis in April.
What annoyed me quite a bit was the unnecessary clickbait by the Lego Bloggers. The only thing Lego actually showed were their Dot products, and had a photo ban on the real products, so you got a lot of (repeated) coverage on things they can't show.
But let's move from still standing miniatures to moving pictures. I was made aware of an interesting series by Arte, lost movie treasures. There are a couple of episodes online, I watched 1915 - Germany at War and 1944 - The Landing in Normandy.
Of the Krauthorn podcast episode 11 is online since thursday night. I was able to catch up on friday on my way back from work and after work.
Friday meant two additional things, the new episode of Picard is available on Amazon. In contrast to The Next Generation, due to the larger plot, is nothing you can watch while doing something else. And I am unsure if the great story arc isn't a bit much. But we'll see how this further develops. The second thing this friday means is that the last few episodes of Bojack Horseman are online on Netflix. Amazing how quick time flies. Must have been by far the longest project next to Arrested Development for Will Arnett.
There is a teaser on the final season of Better Call Saul and we will see the final transition of Jimmy to Saul.
I'll give Bon Appetits Lasagne a try today and guess, that the cooking of the Ragu Bolognese will take up most of the afternoon. I'll probably post some pictures on Instagram. That's it for today, enjoy Sunday, if you're a American Football fan, enjoy your Super Bowl Sunday.
Enjoy this article?