I already have an 8,8 FlaK, the kit by Warlord Games / Italeri, and the Blitzkrieg one, but as I wanted a mounted one, that could be towed, I looked into the Rubicon kit as well (and because my Afrikakorps almost exclusively uses Rubicon kits for vehicles).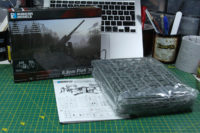 What am I going to do with 3 8,8? Well, the resin Blitzkrieg kit will be used with the Autumn/Winter Germans, the plastic kit will see action with the Spanish Civil War (yes, it was already used there, and I have the matching crew). So this on will most likely be build in tow-mode for North Africa. And that is beside an all-plastic crew, one of the USPs of the Rubicon kit, it comes with the Sonderanhänger 202 (Sd. Ah. 202) in plastic as well.
Similar to the Italeri kit, you have an insane amount of parts and it really is very close to model kit building. The instructions are only before pictures, which slows you down and makes it more likely to make mistakes. With Part X36 for example, the angle is wrong. I realized this after taking the picture and fixed it afterwards. This kit comes with two different gun shields and is moveable, so you can angle it and of course swap between tow and deployed mode.
I really like the look on the Sonderanhänger, and it could even be fired in a limited anti-tank mode while still on it. The kit comes with a couple of crates, and along with the bits that are included in the Perry 8,8 Flak crew, you'll have enough to setup a proper FlaK emplacement. Deployed or not, just put most of that stuff on the towing vehicle otherwise.
A brief side by side comparison between the two plastic (ABS and regular Polystyrene) flaks. The Rubicon kit is roughly 4 EUR cheaper than the Warlord / Italeri kit, and even covers the Sd. Ah. 202, as well as an easier to handle plastic crew. Yet, it is a bit more annoying to build due to the higher amount of parts. And of course the need for a special ABS glue.
What's next? Well, of course painting. But a 8,8 needs a tow in Bolt Action, a role that can more or less only be covered by the Sd.Kfz. 7. A kit, that I just might happen to have around. But that's a story for another post. See you soon.
Enjoy this article?