Welcome back to Gaslands! After we have chosen and prepared the right car last week, it's now time to paint. There is also something to consider here. For the base I primed the top and the chassis separately, so that nothing of the interior would be visible later, and the outside was re-sprayed in white, so that the later main colour, yellow, would not need so many coats for the base colour.
"What did you do?" asked the mechanic as the freelancer drove his car onto the ramp.
"You should see the others," he replied.
"So Julia, what do you think? Can you get this thing fixed?"
"I will definitely have to replace the wheel and the front suspension. More I can only tell you after a thorough check-up," she replied.
"Okay," said Dino "what will this cost me?".
" We still owe you a few cans and a favor. Don't worry about it for now, we'll talk about the money later."
That was good enough for the freelancer. He threw the key to the beautiful mechanic, which she caught elegantly in mid-air. It was a shame that she had joined Rutherford's gun freaks. She could have been a great asset to his crew.
If you have decided to paint the car completely new and leave the windows in, it is important to paint them first. In most cars they are the lowest point on the model and everything else is, so to speak, one layer above. The same goes for the lights, which I painted in the next step.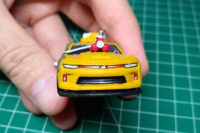 The headlights got a base layer of pure white, which I inked with Gryphone Sepia. A fine line in white just above the center of the headlights created a good recognition value. All red lights got a base layer of Bloody Red, which I gradually brightened more and more towards the middle with white.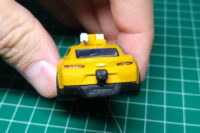 I traced the edges of the lamps with a thin line in black to create a border to the next color area and finally applied the base color for the chassis: Plague Brown. Those who have read my Blood Bowl articles know that I have painted a lot of yellow lately and so the color has become a bit of my temporary trademark over the past year.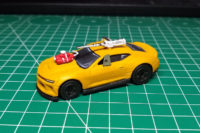 Next week we'll look at how I finished the car. Freelancer Dino will then be ready for his first missions and can face the harsh world of the Wastelands.
Greetings from the garage
Dino
Enjoy this article?