In February I got myself the updated Adeptus Titanicus starter set. Adding further titans to my maniples. Just look at the staple of sprues!
I already have one of the regular Reaver kits and two of the ones with melta cannon, and converted one of the carapace weapon systems into a plasma blastgun. And during the evening hours of the week, I assembled the first parts of the Reavers and Warhound sets from the kit.
The idea is to have three in the traitor legion and two in the loyal ones. The regular kit comes with a standard head, the other one offers three variants of a more sinister look. For that I had to convert the second standard head a bit. I decided to move the least sinister looking one to the loyal maniple, and converted the regular one into a bit more evil looking (head in the middle).
As I wanted to mix the gear and weaponry, I did some minor conversions. I took out some of the missiles from the Apocalypse Missile Launcher, and I am modifing the power fist into a power claw, with the additional bits I had spare from the Warlord kit.
I went through some great posts on Instagram, to get some more ideas for re-posing the legs, to give them a more dynamic look. That will be the next step. And I managed to score two of the Civitas Imperialis sectors, so I can build more of the Civitas Imperialis kits. There's a small terrain series on schedule.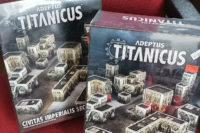 This afternoon the second part of the preview by Games Workshop goes live on WarhammerTV on Twitch, looking forward to it.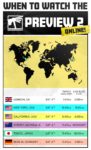 Come by tomorrow, for the next weekend update, covering the third week in home office, some cooking and ideas what to do with your time in addition to our hobby.
Enjoy this article?