It's a mystery to me how this happens, but I have the feeling that if you keep searching long enough, one or the other toy car will turn up at every household. Such a miracle happened the other day when I was cleaning up at home, where I discovered this Nissan Titan by chance. From the beginning on, the car looked so ugly and lowered to me, that it looked like a broken car even before I could tinker with it.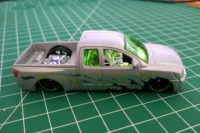 Therefore I did not hesitate to take the car apart. That would not have been necessary, but it was a good exercise to find out how long the screws on the bottom are, how much pressure I need with a Dremel drill, and how much I can use from that thing. Initially I had thought about removing the hood and cutting out the lamps in the front to make it look like the car had been plundered a lot, but then I thought to myself, Meeeeh, it's just a piece of terrain. I drilled a hole in the roof and glued some round plastic part that was lying around here on it. When this thing is painted, it's gonna look like a gun used to be mounted there.
I wonder if his license plate number used to be CO - VID 19?
In doing so, I made sure that the parts were recycled as much as possible. I even added the steering wheel from the interior to the stack of tires that was created from the remaining wheels. I will probably play around with some paint on the cadaver of this car and not paint too clean in order to test different weather and rust effects.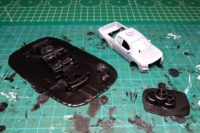 During the priming I sprayed again from both sides, so that the underside would also looks "neat". Most likely I will not glue the upper part of the car back on, because it is quite easy to attach, so you could even use it as another piece of terrain if needed.
Greetings from the racetrack
Dino
Enjoy this article?