North Star and Osprey Games really spoil the Frostgrave player base, for a skirmisher we have access to much more than an average amount of plastic kits. Most would have been fine with the regular Wizards, but we even got a plastic kit, that I covered last week and then they even added another one, Frostgrave Wizards II, bringing us even more options and most notably female wizards.
You still have access to a broad selection of wizard, covering the wizard and an apprentice each, for 6 GBP per blister pack. This second Frostgrave Wizards plastic kit gives you similar to the first one the opportunity to build 8 miniatures for 15 GBP.
Inside the box you'll find three sprues protected by bubble wrap. Two wizards sprues, that are identical, with four bodies each and a lot of options to choose from, along with a sprue of 10 round bases with 25mm diameter.
These sprues seem to be casted by someone else than Renedra. From the design of the frame it might be the same company that Warlord Games uses for Bolt Action, and Plastic Soldier Company.
From a quality point of view there is no difference. Well done casting, proper details and low amount of mould lines. The sprue is very packed with parts to build Wizards from. Each of the female Wizard sprues covers:
4 bodies
20 heads
19 right arms
19 left arms
14 bits of equipment, charms and bags
3 familiars
This sprue is included two times, so you have double the amount to play with.
The four different bodies are in motion. All of them wearing long wizard robes, with one having a mandatory flowing part and one body covering an optional garment front piece. The clothes are of different styles and the poses give you the option to have more or less dynamic wizards, according to your needs or preferences.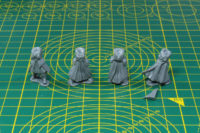 The hand / arm options are quite broad, a total of 38 different to choose from. You have staffs, weapons, books or potions, and open hands simply making spell casting gestures. I chose a wooden staff with a calming hand gesture, a reached out arm to later place a familiar upon, a summoning pose for a dark spell and a hast cast from a spell book.
The heads are numerous as well. From different ages to ethnics, different head gear as well, from hoods, over headbands to hats. I went with the elderly women, a high hat, the open gesture for the necromancer and the flowing hair for the caster.
And all that's now left to do, is choose from the variety of equipment to add further details to the miniatures. A stray cat for the elderly wizard, an owl on the arm, a sacrifical dagger for the necromancer and scrolls for the last one on the right.
Even after building these and not scrimping on bits, we have still a lot of bits left. So you have quite a surplus for your bitbox, for example to convert further wizards or special classes of soldiers / crewmen from the plastic kits. And those are just the bits from the first sprue.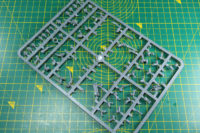 The plastic models are very continious with eachother as you can see. The scale fits with the metal wizards as well, though the style is a little bit different. And as the question came up, a comparison with the plastic mages from the Warhammer / Age of Sigmar, a metal Warhammer wizard from the 6th edition and of course, a comparison with Nicodemus, the greatest mage of them all may not be forgotten.
And here we have the four wizards.
Conclusion
Simply amazing plastic kit for characters. This one and the male wizards as well are a great source for wizards, as you can customize them to your needs. That might be the case for Frostgrave itself, that might be Oathmark, or any other game that might benefit from the use of scholars of magic. And the price is a no-brainer, 15 GBP for 8 (characters) models is insanely cheap.
I bought this and the other wizard kit myself and traded the second sprue for other miniatures, as I didn't had the need for that many models. I strongly suggest, that you get a teammate, one buys one box, you the other and you swap a sprue each as that brings you incredibly far. 15 GBP for 8 different models. Same goes for some of the other Frostgrave kits, like the soldiers or crewman, swap a sprue or two for more versatility. Your warband will benefit incredibly.
Building this kit went fast and easy. The few moudlines are easy to remove and you can play around with the vast amount of bits you have. Dino has done so and will show you a Wizard and Apprentice build from this kit, incl. a painting tutorial within his Sword & Sorcery adventure.
Frostgrave is a brand of North Star Figures and Osprey Games.
Enjoy this article?