March is always a great month because it gives me the most opportunities for excuses (yes, I know how that sounds). At the beginning of the month I turned 40 - all the more reason to throw a little money out the window. Or is it?
Last month I was thinking about what I wanted to spend my monthly budget on, and that it would probably be a play mat. I've hesitated between four mats from PWorks:
The War Sands mat has been smiling at me for a long time as I can use it for several of my systems, however I am perfectly happy with Mortal Gods for this year and would rather have something that lends itself to that. Overlord is a beautiful mat and works well for pictures. However, many scenarios simply don't include a beach, which makes a third of the mat mostly useless. So in the end I decided between The Valley and Woodlands, with the cutout of the 3x3 area being the deciding factor.
When I've progressed a bit further with some terrain, I'm sure the Afghan houses Dennis reviewed this month will be found on the mat too, with an appropriately Mediterranean-looking paintjob, of course.
Miniature-wise, this month I finally finished the centaur I painted for Footsore Miniatures, kindly provided by Andy Hobday. It was really fun to get the gentleman under the brush and although I already have a certain routine with some colors, I didn't dare to experiment by adding white dots to the horse part - maybe next time.
Another experiment, which I didn't go through with, were tufts with flowers. I got yellow and red tufts from DIY Miniature Wargame Railway Scenery, but they looked kind of...cheap.
So I had another look around the market and found some from TabletopTune, this time in white, to get as neutral a look as possible, so it wouldn't distract from the painted miniature.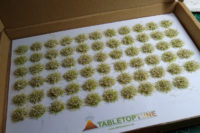 As you can see from the centaur above, I didn't use those either, so the tufts proved to be a bad purchase. At least so far, because buying them has brought me over my monthly budget. Therefore I intend to mainly paint terrain in the upcoming month.
So the hobby balance changed in March as follows. I started with € 53.01 that was available to me and bought from it:
40,40 € PWorks play mat, shipping included
17,11 € Various flower tufts, shipping included
This leaves me with only 15,50 € for April instead of the actual 20,- € per month. That's a little annoying, since I didn't want to go over my monthly limit, but the houses for the gaming table are all more expensive than 20,- €, so I would have had to save for a month anyway.
Maybe that's a good thing, since it reminds me how much I actually spent on the hobby in March and why I should continue to moderate my spending.
Greetings from the Chaosbunker
Dino
Enjoy this article?