The good news first: I found a new job and am more relaxed about that issue now. On the other hand, of course, this means that I have to concentrate on learning the routine and, at the same time, my hobby time is melting away.
So, I'm not surprised that I easily stayed within my hobby budget in April and again only painted one miniature. Since I was somehow not satisfied with the first iteration of Dromeas, I painted another model with the same background story in mind.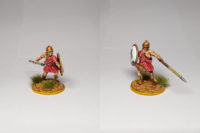 Instead of the runner symbol, I used a horse for the shield this time. I figured that if a runner wanted to show that he was fast, he would probably symbolize that with a fast animal.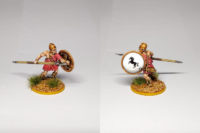 Since the rest of the mercenary force didn't have any color yet, I took the opportunity to give them a more individual look as well. I know the spear was a common weapon in ancient Greece, but for the gaming table it just looks better if the figures have a more visually interesting armament.
In addition, the mercenaries have been given all sorts of little bags, pouches, and other small equipment to emphasize their character as blades for hire. I think next month I will start with the hero, who probably needs a more badass name than Axon.
Around the same time, my first play mat arrived. It has been packed quite securely against impact damage in a large tube carton and looks pleasantly matte when unrolled. I took the snapshot in my home office, where I have a wide window front, but the incoming light reflected only slightly so far.
The level of detail shows variations. It seems to me that some parts of the design are sharper than others, but this must be due to the template, not the print itself. For just under 30 Euros, I can't really complain - the only thing I didn't like was the unclean cut.
Anyway, it' s appealing to fill the mat with terrain and just see how it looks. I made my first experiments this month with terrain as well. Lazy ass that I am, I first tried to spray a piece of pink Styrodur with black primer followed by white primer. The idea was to already create a textured layer through the etching effect that would drybrush well. To some extent this succeeded, but I hadn't counted on the material virtually merging with the primer itself. The resulting effect was a surface on which paint simply would not stick.
The first terrain attempt almost looked like poop...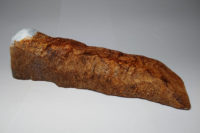 So I thought about how I would get around that effect. Without some sort of coating, there would always be some pink showing with the terrain piece. I ended up applying some craft glue and spreading it over the entire rock formations with a piece of foam rubber.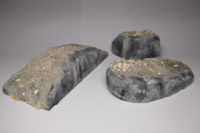 With this, I was able to give the rocks their first basic colors. As soon as I have also provided the sanded areas with color, I will create depth by applying different washes and then drybrush the blocks several times. In the end, they should fit well with the bases of the models and be covered with grass and flower tufts.
But a somewhat more extravagant terrain piece is also in the works. This ruined temple should not only serve as a small eye-catcher, but also as a presentation area for newly painted minis. I was inspired by the character selection screen from the game TitanQuest.
After spending no money in April, I thus have 35.50 Euros left for May. This also brings the first set of Afghan houses within reach, which are also well suited for a Greek theme with a little color.
I think I could save up another month to get two sets at once to save on postage. Or should I try to spend more time on unpainted minis instead of buying new plastic? You can find out for yourself at the end of May by stopping by here again 😉
Greetings from the Chaosbunker
Dino
Enjoy this article?