I got my kits via a dutch onlinestore, Tabletopper.nl, and shipping was quick and easy. Shipping rates are reasonable, and I got some other items along with the bedford trucks as well, an Austin Tilly and some stowage.
The British had a variety of trucks and tows in service during the war and especially in North Africa. With the Bedford QLT and QLD kits available as plastic kits, I could take care of that addition to my forces, as most of the vehicles are regular combat vehicles, as you can see from the first article, with the exception of some lighter vehicles / armoured cars.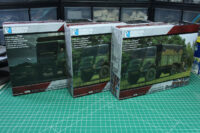 In Bolt Action these are 3 ton trucks with the capacity of 12 men, and you can go for a QLT upgrade to boost that up to 29. To be honest a bit of overkill, but I went with the kit more for the aspect of variety as for the actual opportunity to carry all of my men in a single vehicle.
The two Rubicon Bedford kits share a sprue, with further added for the QLD and QLT variant. A third variant, the QL 6pdr AT gun portee, will be a mixed-medium kit, with plastic, resin and metal parts. Not sure if I'm going to get that one (or even capable to get my hands on it, as these are tricky in stock), but the 6 pdr plastic kit is set, as is the 40mm Bofors.
They share the drivers cabin and the main difference is the wheel base and truck bed. They can cover the need for a tow as well, and I tried to mix up the variants as much as possible. I left out the middle seating row in the QLT, as I wanted to be able to put stowage there and place a few soldiers in there, as an option. But more on the stowage later.
I said, that I would like to add a staff car or some kind of light HQ car to the force. And the Tilly kit based upon the Austin 10 HP just fit that purpose. A single sprue kit, and a vehicle even driven by the later Queen Elizabeth.
Very quick build, but this vehicle is tiny. You really see that, once you put it next to a diecast vehicle.
It has options for the flat bed, and I decided to go for full tarps, even for the spare wheel.
As I couldn't just let the vehicles be like that, I got myself the commonwealth stowage along with some of the crew codes by the Perrys, like "luke warm in Cairo".
With the exception of some artillery / AT-guns, the pool is complete and the stock for this themed army as well. There are some amazing paint jobs on the British camouflage in the desert, shown here with the two-tone by Night Shift or with the dazzle / Caunter camouflage, seen here in on of Warlord Games' showcases.
Enjoy this article?