Oh boy, we've already made it past the first month. That went quickly and it feels like march is already in reach.
January was  pretty dominated on Blood Bowl - and I love it.
Thanks to Radaddel for the quick delivery. I stocked up on supplies, only to have the first brush mess up after only 30 seconds. I basically only removed the tube, dipped it in the paint and - bam - the bristle is standing off.
As during home office hours my door is closed, my kids use the timer after work to take a closer look to the studio and what's going on, what arrived recently and what's in those boxes, that I hastily bring in there after the postman hands them over.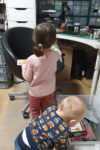 And while were still painting on the desert houses, I brought down the Renedra fortress from the attic, as I'd like to pick that up again and such a large building, would be an interesting and appropiate project to paint with the younglings (well, at least the older one). And as the tower (modified) and four wall sections (not all in the picture) are not enough, I stocked up on these as well.
Even with the little bad luck on the brush, I kept the motivation high and give you a little sneak peak on the journey of the Chaos Blood Bowl team. Base colours take me the longest, but I really like where this is going. Feels very "footbally" and certainly something different to what I found out there. The team will be covered in a series of it's own, covering their journey from bare metal to painted models.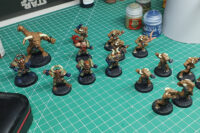 Other than that, mixed feelings on Games Workshop this month. Warhammer+ is rather slow on the updates with animated content. Only the episode on the Chaos Space Marines, fighting Necrons and Dark Eldar. Proper episode, really liked the animation and voices. The behaviour of the Necron in the beginning felt a bit off, unfit for a machine. Still, cool dialog on the terminators and even the Warmaster was seen. Still - we need more updates. The vault is sloooowly updated and the other things are not that exciting. Beyond that, many people were not that excited about the Las Vegas Open teasers. Those updated Eldar are incredibly well done, the Avatar, the aspect warriors, really ace stuff. And the teaser on the Ash Wastes for Necromunda ... even though I do not care about the miniatures, I surely do about the terrain.
Enjoy this article?