The first supplement for Warhammer Quest - Cursed City is available with Night Wars. It's been a long time since the initial release of Cursed City, so give me a brief moment to get you up to speed.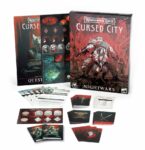 The Warhammer Quest series is an old range of miniature board games and started almost 30 years ago in 1995 with the original Warhammer Quest, when Games Workshop co-operated with companies like Hasbro to reach a broader audience for their range of Citadel miniatures. In 2017 Warhammer Quest returned, into the newly created narrative of Age of Sigmar, with Silver Tower in 2016 and Shadows over Hammerhal in 2017. In 2018 with Blackstone Fortress the Warhammer Quest series even received a 40k spin-off, that was quite successful and covered with multiple supplements that reintroduced many Rogue Trader elements into the game, like the Dread Ambull.
And then in 2021 Cursed City came along, with a darker narrative, more like a horror game and introduced a group of heroes against a vampire host. As the included miniatures were not just NPCs, but part of the Age of Sigmar range (in army lists etc.), the game was sought after not just for its board game purpose but actually to give you more poses and characters for your AoS undead projects. But Cursed City was up for a tumbling start. For multiple reasons, but not official statement. Once it was introduced, it was due to the success of Blackstone Fortress very clear (along with the way it was shown), that were would be more content to come. But they had massive supply chain problems with the release. First of all, the due to Covid the whole release schedule by Games Workshop starting 2020 was put upside down, so things had to be rescheduled, new production dates etc to be arranged, which was the initial major problem. This caused the game to be postponed, with more problems to follow.
The stock for the initial release was sold out so rapidly (but not clearly communicated, that there would be reprint, or not, if trade orders would be fulfilled etc.) causing a price rise in the second-hand market of 1,5 to 2 times the RRP. At this point, people were asking, if the game would come back or what the plan was and the communication by Games Workshop's PR wasn't the best between, saying nothing at all or just "yeah, that's it, it's a one off" (when it clearly wasn't). But why was it so hard for them to communicate an answer? Because it wasn't clear how it would turn out. You might have seen memes about the container ship stuck in the Suez Canal. Well, Games Workshop still produces a lot in Asia, especially supplementary content and for example Nightwars clearly states that it was designed in the UK, but made in China. So, the stock, needed to complete the boxed sets, mostly printed goods, were stuck somewhere between China and the UK, with no information, when it would arrive. This creates an ongoing problem, as if you don't know when it hits the warehouse, you have no idea when it will leave the warehouse etc. and hit the market.
This was in 2021, which overlaps with Brexit in addition, and these are things that partially rumours but plausible. For products to be sold as made in XY, a certain part of the creation of value has to happen in the country of origin, and from what I understood, the combination of Games Workshop's UK plastics with print products from China caused a problem with the new or interim trade arrangements. As I have a background in logistics myself, I am aware of terms like temporary admission (for example crabs used to be sent to Morocco to be peeled and then returned to the EU, or cars "made in Germany" were only final assembled in Germany, with a majority of steps done in Eastern Europe) and similar other stipulations, so in case that the printed parts of Cursed City might be more expensive to produce for Games Workshop than the plastic sprues, this could cause a problem.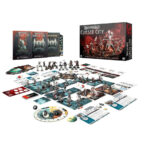 But as parts of these releases and supplements were produced in the UK (and we will see some of them further below), Games Workshop cut them out of the Cursed City release schedule and released them on their own, as the Soulblight Gravelords (vampiric undead in the Warhammer lore). And this is my personal explanation, why the Nightwars supplement, comes without miniatures. Because that is the thing that irritates the most people, as Games Workshop is a company producing miniatures and all of the other supplements for Warhammer Quest and Blackstone Fortress, came with miniatures and partially only a few scenarios or minimal new content to go along. My assumption is, that the Nightwars is re-bundled content, that would otherwise be spread or released with fewer miniatures.
Yet, what is part of the Nightwars supplement:
48-page Nightwars rulebook
2x double-sided board tiles
53x game cards, including encounters, Elite Class traits, empowerments, discovery cards, vampiric power cards, and a Nightwars quest card
2x vampiric power secret envelopes
30 double-sided tokens, including new lurk, hunted, and blood point tokens
And as mentioned above, this supplement does not include any Citadel miniatures. And it suggests that you add to your Warhammer Quest: Cursed City boxed set the following miniatures from the Soulblight Gravelord range:
As you can see, these are three named characters, including the "upgraded" Radukar the Wolf in his new form.
The Nightwars rulebook is full colour and continues the story of Ulfenkarn from the initial starter set, covering new enemies, new Elite Classes to progress to for each of the four base classes, rules for a settlement, a few new journeys (campaigns) and more in-depth Crisis tables.
You get a lot of tokens and markers made from thick card board. These cover two small double sided board tiles and 30 tokens for keeping track of various game status.
There are a lot of new cards, covering all kind of information, from data cards for the new mobs, two decks for discoveries etc. and a new quest card. As with the other Warhammer Quest titles, you get closed envelopes, to open as a reward for the player, once they hunted down each vampire.
Yet, as someone who is not a hardcore board gamer, but knows about the need of sleeving your game cards, this is rather annoying (the pictured cards are three different sizes - just for those, without the additional sizes for encounters and quests...).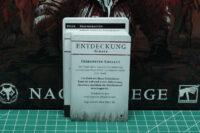 Conclusion
This supplement is 40 EUR, which is reasonable for what you get. You have a couple of hours of new gaming experience - for a group of gamers and supplements for board games are usually around that price range. The problem certainly is, that it does not come with miniatures and that the models required are not available as a bundle, but individually cost a total of 163 EURs (and all of the named characters are currently out of stock online) - so that leaves after the initial, tumbling release the rekindled excitement of the return of the Cursed City certainly not under the most beneficial conditions. And I get that, I could probably live with the 40 EURs for the supplement (for example the Ambull was 45 EURs and just covered something the size of Radukar the Beast with a few cards and a 16-page scenario booklet).
What would have been the option? A split into several releases, like they did with Blackstone was probably not valid due to the already postponed schedule. But maybe, releasing this Nightwars set as it is, as an option for those who already have the models and do a premium / all-in boxed set for 80 to 100 EUR covering the miniatures. This wouldn't create a devaluation for the individual characters for the manufacturer / stock on the market and be something similar to the Start Collecting! sets, offering the more board game focused players are more reasonable option.
If you already have Cursed City, is this supplement worth it? I would say yes, the material is well made and you get additional content of multiple hours that certainly lives up to the costs. Is there room for improvement? Obviously, especially with the initial problems they could have sweetened deal a bit more. But beyond that I am interested if we will see more content for Cursed City (outside of White Dwarf) or not.
Warhammer Quest Cursed City is a brand by Games Workshop.
The reviewed product item was provided by the manufacturer.
Enjoy this article?