While I'm writing this sum up of October, my head is all in for the weekend. It the first weekend in November, this means CRISIS!
For a decade I'm travelling to Antwerp for the biggest wargaming event on the European mainland. We booked our hotels etc. in summer, with the option to cancel it – if something comes across. And unfortunately, something did. CRISIS as a show won't happen, as multiple circumstances would make a profitable show very unlikely. But the Too Fat Lardies got together with the TinSoldiers of Antwerp and arranged LARDwerp to happen the same day. So we kept our bookings and I'll share our wargamers weekend on here along with my other social media channels (If you're just into the wargaming part follow CHAOSBUNKER, and if you like drinks, food and travel as well, follow me on DennisMit2N).
For the first time ever, I got miniatures for my birthday. Beside some showcase models (thank you very much) I got some lovely oldhammer miniatures from Harrowhyrst, by my lovely wife. I'll cover these in an upcoming review.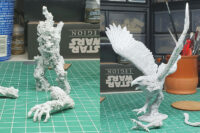 I treated myself with a Land Raider Proteus kit for my retro (Chaos) Space Marine project. The Rogue Trader Land Raider didn't really fancy me, as it is not reasonably priced and usually a lot of work to restore (those kits are from the late 80s and there's always something missing), so I decided last year – prior to the Horus Heresy announcement and releases, so get my hands on a 30k Land Raider as a stand-in, but could only acquire the armoured one, which wasn't a bad fit from my point of view back then, especially for the siege heavy Imperial Fists. But with the release of the plastic kits, I got myself a second one and will move the broader, armoured Proteus towards the Black Legion as Abaddons personal ride. Which would give me the option to cover the imperfections of the Forge World resin kit with some mutations and chaos insignia. My main challenge currently is getting the front ramp into the resin kit along with getting my hands on the Black Legion Rhino doors, as through the extension they swapped from the Land Raider sized side doors to the smaller ones from the Rhino kit and I can't use the parts from the Black Legion upgrade I own.
I am all-in on StarGrave – A Star Wars Story, and beside the fact that I will cover the vehicle kits I bought over the last two years, I printed some larger models as well, like the LRD Truck by Squamos Miniatures.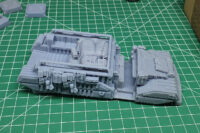 Autumn is coming to an end, so the movie industry is publishing some heavy hitters. We had the finale of House of Dragons (surprisingly well), Andor (caught me right away) and some movies like All Quiet on the Western Front. I used to have a WW1 project, late war Germans against a friends British, but we sold it. As for the movie, well made scenes, soundtracks supports the picture in a proper way, but it drags. I am aware that the topic is heavy on the mood and this is surely something that aids to this feeling, but it could have work with 30-40 minutes less in similar and unfortunately from what I understand, a lot from the book was dropped or changed. I didn't read it, I just caught up on the summary, but even in the brief consolidation of the book you notice parts missing, that would create for a better contrast.
I finished another Horus Heresy audiobook, Battle for the Abyss. It starts a bit slowly, but over all an entertaining story. I'm already halfway through the next one, Mechanicum. Which is very interesting, as I wasn't aware of the role of Mars as an ally to the Imperium.
Beyond that, I am assembling various kits and priming, trying out ideas etc., some quick shots of those can be found on my Instagram - Chaosbunker.
As mentioned further above, busy weekend, am looking forward to it and I'll report about the upcoming days.
Enjoy this article?