Just a brief heads up and life sign that I am not slacking off and waiting for the deadline to give me further motivation. It is day 8 of the summer project and 23 days to go until I have to have my block completed.
I started out with the black primer as mentioned in the last part of the coverage (Hooves and Fur Part III), and my first learning from this is, that I'll dust the other miniatures on top of the black primer or at least give them a light grey / white drybrush, to give me some orientation. It's been a while since my last painting batch and depending on the models you are working on, this helps to bring out some of the details.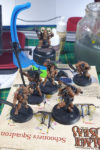 The first step was to fill in some of the base colours, so far I did the following.