North Star teamed up with Osprey and introduced Frostgrave. A Fantasy Skirmish, with Warbands gathered around Wizards and Mages of different schools, that explore the frozen City for treasures and artefacts.
North Star prepared a nice and handy rule set, that i'll introduce in an additional article, and even released a first plastic kit for this game, giving you the soldiers of your warband. The will be more plastic, among others, covering Cultists. I am really looking forward to get my hands on these nicely done plastics, and got myself a few other plastic sprues to mix them up. In my case a Gripping Beast saxon sprue and Fireforge Games Foot Sergeants.
I read a lot of positive reviews online and among others in the Wargames Illustrated, and will give this game a try. Of course, i'll share my experience with you, once i had the chance to read it and so on.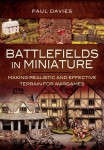 Among the magazines, that covered content on frostgrave i stumpled upon "Battlefields in Miniature", a book by Paul Davies, about building terrain. A bulky 200-something pages, lots of information and nice addition to my wargaming library. High information densitiy, good amount of pictures and clear instructions. Good read, and you get quite a lot for your 30 pounds. I guess, i'll go more into detail, when i find the time.
Thanks a lot for reading, come by again soon and leave a comment if you like this blog!
Enjoy this article?