Last few days until christmas, and i want to show some really special blogs from my pinterest board. I hope you guys liked the advent calender so far, and a ready to spend some time with your family and friends, have a rest, and maybe enjoy a game and a cold pint.
First pick is from France, Lead Plague. A pretty cool old school project log, about Rogue Trader and Oldhammer. Some original vintage miniatures, along with conversions of newer ones to fit in with the old vibe. Enjoy the nostalgy.


The Witchhunter moved places. His old project blog was already really impressive, and the new one, Back of Beyond, doesn't stand behind. I was used to high quality painting, but the new blog improved even and has now more scenoramic shots, really helping those miniatures come to live. And such a huge variety of projects and setting.

And last, but not least, we have Panzerserra. Most likely the most awesome model builder blog out there. I was researching about the AEC Mammoth and found him that way, and was amazed on how many builds he has done. Panzerserra is a brazilian model builder and his huge collection of special vehicles is really incredible.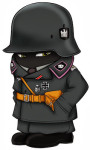 That's it for today, really take the time and visit those blogs, come by again soon and leave a comment or give me a like on Facebook if you like this blog!
Enjoy this article?