Christmas is near, the holidays have begun and I will spend my two weeks off with the family as well as with the hobby.
I got a little christmas present from Radaddel. Thank you very much, always a satisfied customer and with this little bonus towards the end of the year more than ever. Some sweets, a small jar of model snow and a Citadel Painting Handle. Those are very useful and it is always practical to have one more to spare.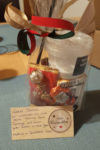 I dropped by at the local merchandise store CTU in Koblenz. He stocks comic books, trading card accessoires and random geek and nerd merch. I bought the sleeves for my Underworld cards there and with Nightvault released and further warbands to come, it made sense to look for a proper storing solution. Was provided guide across the different product ranges and went with the Ultimate Guard boxes and a smaller one for the deck in use. Oh, and they carry import drinks and sweets. As the availability of A&W and such was scarce, I went with two pop tarts.
Got a nice package by Warlord Games as well. One covering their farm animals. I'll do an unboxing on them early next year, and a Char B1 Bis (already reviewed that one) in combination with a LeFH 10,5cm. I'll try to build a 10.5cm leFH 18/3 (Sf) auf Geschützwagen B2(f) and will cover the steps accordingly on here.
A big thank you to Guy for having my back on missing Crisis this year. He send me the event miniature of Silvius Brabo, along with a Footsore / Gangs of Rome miniature, that I assume was in the goodie bag as well. Thanks mate and enjoy the holidays!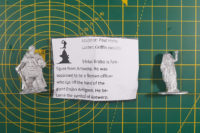 As I have finished the Titan week and now have two warlords, a reaver and two warhounds, I'm looking for the proper paint schemes and a second reaver (but I'll wait with that until next year, when the other configuration will be released). I'm thinking about a green with bronce for the loyals and bone with red metallic for the traitors. With a creme white for the loyal as a contrast, and a dark grey / black for the traitor. We'll see, maybe I have the time in the next couple of days to throw a bit of paint onto these. Starting with the Warhounds.
That's it from my side with the christmas preparations so far. I'll post some updates during the holidays, covering my cooking on christmas (as I did with the Beef Wellington and Pulled Turkey), upload a brief battle report and the summary of 2018 (see the 2017 annual review here) as well.
Enjoy this article?