The year is coming to an end and today, as well as the upcoming days will be celebrated with the family. And I hope that you can take a break and enjoy a few days with your family and friends - so Merry Christmas! Frohe Weihnachen or Feliz Navidad!

To prepare myself and gather a bit of rest for the upcoming days, I got back to the Lego 42098 Car Transporter, that I got myself for my birthday. I intended to do a MOC on this one, but as I didn't found a proper alternative build and due to the fact that my bricklink order got rejected by the german customs (yes, let that sink in, the original plastic parts sent by a shop from Norway weren't EU-compliant ...), I went with the regular A-model.
Very enjoyable, especially with Held der Steine working through his Lego Technic Week. Then later continuing with Deadwood, to prepare for the movie. That might have been a mistake, as I might want to build a western town afterwards. We'll see.
Of course, holidays or not, reorganising and stocktacking has to continue. I am currently sitting at the sprues. Cleaning remaining bits from almost empty sprues, cutting sprues down to safe space and deciding which to keep and which to sell in January.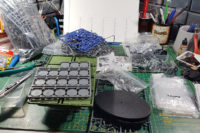 With a bit of time off, I can get a bit creative in the kitchen and work through recipes and ideas (and especially ingredients that would probably go bad after the holidays). So I decided to try some pretzel snacks with left over pretzels and cinnamon rolls, as the pastry dough was due.
As I usually cook something bigger for christmas and/or new years eve, (Beef Wellington in 2017, Pulled Turkey in 2016), I decided to try out a venison stew with dumplings and red cabagge this year. Bought at the local butchery, that supplied me very well so far this year.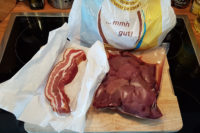 I am really excited about this years holiday, as the young one has become more and more interactive with her being almost one and half, and as such is a much bigger participant in this years celebration compared to last year's. As part of the "early education" I got her among other things some Duplos, and oh boy am I excited.
That's it for today. I'll prepare a sum up of the year, as well as very likely my recipe from todays stew, other than that expect content to properly continue in the new year (I have something prepared over the holidays, if you want to stay really up to date, it's best to follow me on social media, either facebook or instagram). Have a very merry Christmas!
Enjoy this article?