May is over and as expected I haven't had that much free time due to my new job. But as the saying goes, sometimes class counts more than mass. Following this motto, I managed relatively early in the month to paint my leader for the troop of Greek mercenaries and Corinthians.
Since he got a completely new miniature, I also gave him a new name: Diamachos. The name is derived from the greek word for quarrel (diamachi) and is supposed to represent that this fearless mercenary captain lives from the conflict of others.
Next I took care of some tabletop gaming elements, namely the rocks I had started. The results were quite mixed, but in the end I am satisfied with them.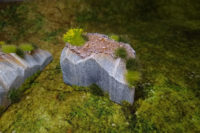 Although I first had to completely seal the basic structure with pva glue, which was a tedious step, I was subsequently able to paint the rocks well with common acrylic paints. This will be suffice for rough structures in the future as well and, most importantly, it's actually quite a lot of fun.
The wear of grass tufts turned out to be a disadvantage. Initially, the rock formations looked very boring and this look was only invalidated after I had partially sanded the rocks and added a lot of static grass and tufts. All in all, though, it was enough to create a few atmospheric snapshots:
Die already!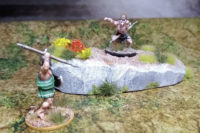 The heroes face the storm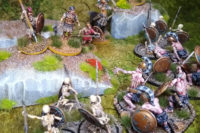 What struck me on the spot was that the whole thing would look even better with a few trees. Accordingly, shortly before I wrote this text, I ordered a few more from AliExpress. Last but not least, I painted this mercenary from Diamacho's squad in May.
Admittedly, the orange tunic color was an experiment. I like it, but somehow it doesn't seem to complement the leader's look very well. After a little exchange in the German tabletop forum, I decided to use the same colors for the rest of the troop as for Diamachos. That means, they will all get their gray tunics and somewhere on the model a red detail, e.g. in form of a red line at the hem, a red shield front or a red sword scabbard. At this point, I would like to thank the two users Drachenklinge and Bodok, who gave the impulse for this.
Let's move on to the monthly budget and the plan for June. As mentioned, I ordered trees and spent €6.48 on them. This left 29.02 € this month, from 35.50 € from the previous month. In June I will add another 20,- €, so my budget is a whopping 49,02 €.
In June I also have to prepare for the summer project, an annual painting round where you paint 18 minis in three months, in which the Chaosdaddys also participated last year. For the curious here are the respective results:
The organizer allows me to take terrain pieces instead of figures, as long as they can be assigned to a point value in terms of size. After a short consideration I have decided on the following:
Two single trees (1 point each)
Four small rock formations (1 point each)
Two Sarissa fountains with statue (2 points each)
Two medium field plateaus with decoration (2 points each)
Large wooded area (3 points)
A Greek house (3 points)
Should I make good progress, I will add a bonus round with more Greek houses. As you can see, that's a lot of stuff, but I'm confident that I'll achieve the goal I've set. In addition, it helps me to remain successful in the budget.
Greetings from the Chaosbunker
Dino
Enjoy this article?