Covering the motor pool for my 8th army last november, and for certain guns you need a proper tow in Bolt Action. For that reason I got myself a Morris and the fitting QF gun by Rubicon Models via Tabletopper from the netherlands.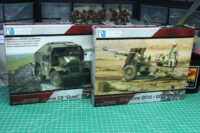 The Morris C8 "Quad" can be build as either the MK II or Mk III field artillery tractor. It's a compact kit, two sprues, two hulls and a few options for the different marks.I went for the Mark III with the canvas top, as that fits the time frame of my project (1942-43) and desert project. With a bit of tinkering you could probably magnetise the upper structure, but I wouldn't need that and could repurpose the spare parts for a wrack or something.
It is a bit larger than the CMP 15cwt truck, but shares the same class, as the Morris C8 is build from a 15cwt truck itself, as you can see from it silhouette and wheel base.
And of course, it needs to tow something and with the larger artillery pieces made from metal not being the most pleasant builds, I went for the Ordnance QF 25-pdr / 17-pdr field gun. As I covered a lot of anti-tank guns and artillery pieces from Rubicon in the past, mostly German, PaK 36, PaK 38, PaK 40 and 8,8 Flak 37, I had a good feeling for the British counter part. It's two sprues and covers a crew of five, who I'm not going to use and replace with Perry Miniatures.
With these builds you notice the differences between Warlord Games and Rubicon Models the most. Warlord goes for a wargamers approach (with the expection of the Italeri kits), where as Rubicon is more for the model builder. So you a lot of moveable pieces and other details you wouldn't probably need as wargamer.
I went for the QF 25 pdr and it counts as a light artillery in Bolt Action, of course you could use the QF 17 as well, which has its own entry.
You can build them in tow and firing mode, and a neat part is that you get a limber with ammunition and a few spare shells to place around the base.
The two kits can be setup in a tow mode, as you can see in the first picture, or as a small diorama / battle scene. As mentioned above, I replaced the Rubicon crew with the WW21 crew kit by Perry Miniatures (which is intended to be used with the Blitzkrieg BM 37).
Similar to the 8,8 FlaK, this makes for a neat little diorama. Just need a good base to set it up, maybe going or the oval Renedra base (115 x 88mm). But I'm happy with this latest addition to my 8th Army.
Enjoy this article?