Covering the motor pool for my 8th army last november, and for certain guns you need a proper tow in Bolt Action. For that reason I got myself a Morris and the fitting QF gun by Rubicon Models via Tabletopper from the netherlands.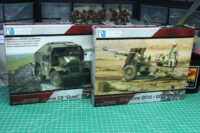 The Morris C8 "Quad" can be build as either the MK II or Mk III field artillery tractor. It's a compact kit, two sprues, two hulls and a few options for the different marks.
A long time ago, I stumbled upon this conversion of a Chevrolet 15 CWT on Panzerserra (on of my favourite model builders) and ever since I build the British 15 CWT, I was thinking about building it myself.
I was unsure if to go for a vehicle in Commonwealth service with a captured gun, or the other way around, with a captured vehicle in German service. After looking for an appropriate breda gun to use with the plastic vehicle. To match the remaining project, the Perry Miniatures Italian 20mm Breda was a good choice. Yet, I have build some of the weapon teams from the world war 2 range and after giving the breda a second look, I decided against it.
I got my kits via a dutch onlinestore, Tabletopper.nl, and shipping was quick and easy. Shipping rates are reasonable, and I got some other items along with the bedford trucks as well, an Austin Tilly and some stowage.
The British had a variety of trucks and tows in service during the war and especially in North Africa. With the Bedford QLT and QLD kits available as plastic kits, I could take care of that addition to my forces, as most of the vehicles are regular combat vehicles, as you can see from the first article, with the exception of some lighter vehicles / armoured cars.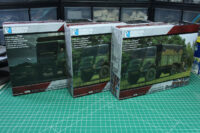 In Bolt Action these are 3 ton trucks with the capacity of 12 men, and you can go for a QLT upgrade to boost that up to 29. To be honest a bit of overkill, but I went with the kit more for the aspect of variety as for the actual opportunity to carry all of my men in a single vehicle.
One of the final pieces to add to my 8th army motor pool is a Valentine infantry tank. As the army is themed around Operation Lightfoot, a mid-war tank and mark would a great fit. As I've stocked the british themed army mostly with Rubicon vehicles, I wanted to keep on doing so. It is just ridiculously difficult to receive stock. The Valentine is part of the second wave 2020 novelties and it took until this week to get my hands on a boxed set.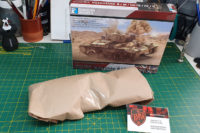 I kept looking for it on my usual suppliers, like Fantasy-In, got in touch with them, but due to Brexit and the incredibly bad preparations by Rubicon UK, there was just no info on when it would be deliverable. Earlier this week Tabletopper.nl posted an update on their stock, covering the Valentine as well, and I gave it a go. As they "only" charged 7,90 EUR for shipping from the Netherlands to Germany, and even had some other items on stock that I was looking for for a while now (for example Empress' WW2 range, which I ordered through a german store in November and Empress didn't manage to supply them with stock pre-brexit nor afterwards), so I had an order with a total beyond 100 EUR it was free of shipping costs. But what amazed me the most, I ordered it on Wednesday morning and within an hour my order was picked and packed, and I received my tracking number just 75 minutes later. DPD did a great job as well, bringing the package within 48 hours to me. So chapeau to Tabletopper.nl, will keep an eye on you from now on.
As already mentioned with the review of the Afrika Korps box, the Western Desert supplement is supported by two new infantry kits, and here is the second one, the British 8th Army Commonwealth infantry kit.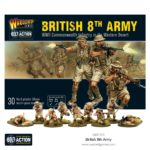 As these were prepared at the same time, we had the chance to see the 3-Ups at this year's Salute in April 2018. The Africa campaign is something special to many wargamers, especially those with relatives, who fought in that battle. The duel between Montgomery and Rommel is often connected with some kind of chivalry, a mutual respect between both opponents. Surely glorified to some degree, as war is war, but still a somewhat special part of World War 2 and therefore of special interest for many people.
Similar to the Afrika Korps box, who was released 1973 (!) by Airfix, the 8th army plastic kit was even around earlier than this, in the 1960s, so for some of the veterans in our rows, these were among the first toy soldiers they to play battles on the living room floors or kitchen tables. Thus reminding many wargamers to their first memories of this hobby.
The Bolt Action supplement Duel in the Sun covers one of the most well known campaigns of the second world war, the African and Italian Campaigns. And we want to share it with you in this review.
A prolonged Whitsun Weekend means some time for the hobby. I put some additional paint onto the Khador, more progress on the basic colours. Slowly, but steady.