I got my Legio Astraman ready - just in time - for the Battle for Uulda III.
This is a private gaming event, hosted and organised by BroncoFish of GrimDarkTerrain. You can find the pictures of Battle for Uulda part one and two on his instagram, along with the projects of the other participants. This is not a tournament or competitive event, but a get together of wargames, who know eachother from Horus Heresy gaming and were kind enough to invite me for the current installment.
As we were an odd number of players (7 in total), Bronco decided to give me some guidance through my very first match and we spread out across 3 different tables. All of them 4 by 4', spotting Civitas Imperialis Terrain and GrimDarkTerrrain. We had a Administratus Sector, a Marsian Outskirt and Desert Forge World to choose from.
The Prophet of Fire was kind enough to play me for the first match. While the others were just "rusty" due to the long pause between the this event and the last time they played Adeptus Titanicus, this was my first game ever, as I didn't had the chance to give it a go before hand nor to catch up the rule videos by Tabletop_Standard. We went for an easy 1.250 points and rolled on the tables from the matched play book to sort out an easy scenario and skipped stratagems.
My Legio Astraman would fight the traitorous Legio Suturvora, also known as Fire Masters, to get to know the game mechanics.
I have to thank Dennes for his patience with me. Had a blast with the beautiful GDT Forge range and really liked the mechanics of the game. I noticed, that my rule of cool choosing of the weaponry, would have some room for improvement and that I didn't go for the most reasonable weaponry on the Warhounds. But that's fixable. Beyond that, I like the idea of huge battle robots fighting eachother and having a command terminal to check the status of the battle engine, but never really caught  up on the design choice of Battletech.
While I was able to deal out some damage to his maniple and partially fulfill my objectives, it was a close 25 to 34, as he was able to score more on his.
Meanwhile AuxiliaryMirelurk led his Legio Charybdis, covering mutated and possessed titans against LordLeonatos' Legio Atarus, Firebrands, on the city table. While Herr.Poom's
Legio Tempestus (Stormlords) fought Hive_Citizen's Tiger Eyes of Legio Fureans on the marsian outskirts.
In the afternoon we swapped tables and opponents. Hive_Citizen played the next game against me and we went for a higher point size, 1.500 points each side, almost mirroring the maniple setup.
The Tiger Eyes maniple really gave me a hard time and I learned the importance of not only relying on your maniple rules, as well as that I have to take a deeper look on equipment options as well. I was quite amazed by the effectiveness of the Venator Light Maniple, especially in combination with the Machine Range Legio Trait of the Fureans.
While I was surprised by the aggressive game play this enables, I will have to modify some weapon options (not a big deal beside the warhounds) and as mentioned above, have to take a closer look into the Stratagems and equipment, that I can choose for the Morning Stars.
The other tables were used as well, and the higher point sizes of this second game made it possible to field some of the latest additions to their maniples. While the marsian outskirt saw Legio Atarus by LordLeonatos fight Legio Suturvora by The Prophet of Fire - fire against fire if you will.
And the re-arranged desert forge forge would host a game between AuxiliaryMirelurk and Herr.Poom, with Legio Charybdis encountering the Legio Tempestus with the support of a Warlord-Sinister Psi-Titan, quite fitting against the possessed traitors.
Both sessions took about three to four hours, as everyone had to look up rules and we weren't on the clock, and we played pretty much the whole time between 10 am til roughly 8 pm, with breaks for lunch and dinner. On sunday was a larger game, 3 vs 3, and I swapped seats with Bronco, who started up the reactors of his Legio Metalica, the Iron Skulls, for this bigger game.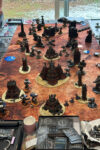 I have to say huge thank you towards Bronco for hosting, as well as the others for welcoming into their game round, explaining the rules to me, pointing out errors that I made without "seal clubbing" me. Am I hooked? Oh, you bet. I already ordered a few more kits to cover some variants of the maniples, as I planned the Astraman on a rather tight "budget" (model wise) and setup a new plate for the next print run to cover a few weapon options as well.
So what is next? Well, we want to do this again and I hope that I can activate a few of my local gamers for this rule set as well, as it is a kind system for wargaming daddies due to it's low amount of miniatures, small table size etc. - we're aready scheduling a date for the next Battle for Uulda, which might not be about Uulda, but a bit larger and more of a campaign weekend.
Enjoy this article?