If you are into Greek mythology and the typical heroic sagas of this era, you will hardly get past Footsore Miniatures' game Mortal Gods and its expansion Mythic. Accordingly, I started to build an army of Hades some time ago and now got the chance to take a look at the Zealots offered by Footsore Miniatures.
But...what is a Zealot anyway? Well, the best way to describe this term is as a kind of religious fanatic, which adds a mysterious touch to Hades' army. For the ruler of the underworld understandably had rather fewer fans in ancient Greece, and the few known places of worship were in Ionia (Asia Minor) and southern Italy, which was settled by Greeks as early as about 800 BC and became known as the area of Megale Hellas from about 340 BC.
Footsore Miniatures offers two groups of Zealots, based on Steve Saleh's original sculpts for Gangs of Rome, and each comes with MDF bases and a group base.
The first group consists of one Zealot with a two-handed axe, two small axes and one with a xiphos and shield.
Unfortunately, the handle of the small axe is so delicate that it broke off during transport. I will replace this piece later with a short sword.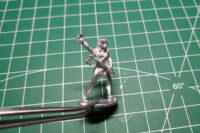 The second mob consists of one Zealot each with a butcher's axe, a hunting spear, and a hammer and short sword, though I wasn't sure if this was actually supposed to be a chisel until I painted it. Overall, the second mob looks more like a group of workers, which is why I painted this one for this review.
Especially the gentleman with the cleaver should be familiar to some hobbyists, as he is not only available in his original version for Gangs of Rome, but also as an additional special version with bow and arrow. This miniature was only available for a limited time and was included for free if you reached a certain order value at Footsore.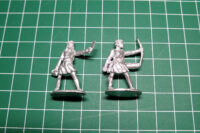 What struck me ad hoc during unpacking were the rather strong moldlines on the models, which can have various reasons, i.e. too weak pressure on the mold. In itself, this is nothing that can't be fixed with a bit of sandpaper or a good file, but the unpoured hole in the belly of the axe swinger, or the warped head of the shield bearer were slight mood dampeners for me.
In the deburred and glued state, the whole thing looked better, but a downer remains, especially since the design and sculpts of the models are in itself very nice.
The second mob, on the other hand, was cast quite well and had no major damage. Fortunately, I can already make a statement about the customer service at Footsore, because I had already received a model with a casting defect once and immediately got it replaced free of charge with an excellent molded version. You will see the greek mercenary captain in one of the future articles.
Since the models have attracted me for some time, I have also given one of the mobs a paint job right away.
CONCLUSION
Although the cast of the Zealots was unfortunately rather mediocre on this delivery, I really liked the design of the Gangs of Rome models adapted for Mortal Gods. Especially the small details on the models, transported them well into another time period, with the greek and roman style being close to each other.
Since I was keeping the models, I naturally wanted to paint them in the style of my existing forces, which was difficult for me, since the temptation is always strong to give each model an individual tunic color and possibly a pattern.
I liked the clear division of the surfaces on the models, which made them quick and easy to paint. It also invited me to try painting some additional details, like the fat stripes on the ham that the butcher was holding in his hand.
Especially with the sculptor it was fun to paint on additional abdominal muscles. It is a pity that he held a dagger in one hand instead of a chisel, as I realized afterwards. The chisel would give the second group an even more civic look, which would have made it possible to visually divide the Zealots into a group of "fighters" and a group of "citizens".
Provided you get a clean, sharp casting, the price of 9.50 Euros for a group of three models each is also a pretty good price, as you can easily use the figures for other historical settings. Also, a blister pack with a small foam insert would probably be useful, as I suspect some damage has occurred in transit.
As "living" troops, the Zealots provide a nice contrast to the main body of Hades' army, which is mostly skeletons. As soon as Mortal Gods gets a new edition, I would be happy to see another squad of human Hades cultists.
Greetings from the Chaosbunker
Dino
Mortal Gods is a brand by Footsore Miniatures
The reviewed product item was provided by the manufacturer.
Enjoy this article?