After tinkering around with the General Purpose Wagon, and further converting the kit, Great Escape got in touch with me and send me some sprues from their current Kickstarter campaign.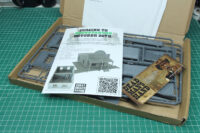 The crowdfunding campaign for Dead Man's Hand Redux is meant to finance a new starter set, covering plastic miniatures and terrain! And the later is something, that I noticed being hinted in the background of the product shots of the last few months. Please be aware, these are early test sprues, so things can change, parts can be tweaked and added, and what we see here might not be the final product.
I received a package with three full sprues, a "half-sprue" and some individual parts. Enough to build a single-story building and walkways.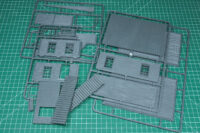 This is hard plastic, as you know it from many companies from the Lead Belt. This is not a Renedra cast, but seems to be the company who covers a lot of Warlord Games and Plastic Soldier Company items, as well as the Gunfighters for Great Escape Games, that we covered in the past.
The sprues are quite massive, minimal warping and even the larger pieces are quite straight, as they are cast with thick dimensions (We talk multiple mm material strength). We have a roof sprue, with a head board and angled side pieces for the roof, a sprue with the tiled roof and two side walls, and a double floor sprue, which is used for each story/level.
We have an incomplete sprue (due to pre-production stage), and some loose parts. There are three shorter walls, two for the front and back, one for the inner wall, along with two moving doors, and two segments of walkway. From the Kickstarter we see that there will be additions, like a second story sprue with different design for the walls, and additional sprues for the walkways and scatter terrain, like boxes, crows, hitching post, water trough, barrels, bucket and saddle.
The final product will come with an assembly instruction. Yet, this is pretty straight forward. A floor with grooves for the walls is used. Minor mould lines and quickly cleaned up pieces. I started by adding a door to the frame.
You have a bit of play, but due the right angles everything comes together smoothly. In this case, I only glued the walls together, not to the floor. And for the inner wall, this can be built with a door as well and placed freely.
The roof used another floor board, making it quite sturdy. You could probably use a frame, but due to the stack ability of the stories, or removal during game play, this is a solid solution.
As mentioned above, I only glued the individual stories and no we can add the canopy. I would either not glue that to the wall or just to the roof, to make it easier to paint and during game play.
A real highlight in my opinion are the walkways, and I see myself getting a lot more of those sprues in the future, to connect the buildings in my Old West town. Along with some of the additional items / stretch goals, this will be a real eye catcher.
I like the aspect, that you can take the roof off and have it playable. Especially with western games / skirmishers, this is a neat option to have. And depending on your needs, you could even store the bits and pieces within the building.
There are multiple terrain ranges covering Old West buildings, mostly in MDF, but the only other ones in plastic are by Renedra/Perry Miniatures and are the old farmhouse / North American Store. Great Escape Games goes for more of a heroic scale compared to Renedra. And far more sturdy, clearly heavier and less hassle to build.
As for the scale comparison with miniatures, works well with their plastic range of Gunfighters and metal miniatures of third companies, like Artizan Design. Even works with tall bases.
Conclusion
I am really looking forward to this being released. And to all the extras that come with it. The RRP of the single-story building is 22 GBP, that's a bit more than the 18 GBP for the North American Store by Renedra, but in my opinion worth it. The double-story building for 32 GBP is going to be interesting as well and the individual walkway sprues certainly.
It was pretty impressive to see how sturdy the overall build was. Really thick walls, barely any warpage and a durable final product, that could withstand the usage on tournaments or in a store. Well done product, and I see myself getting another 2 or 3 to play around with. The double story is set, and I will see what you can do if you cut them down / combine multiple kits.
As for the release, Great Escape Games said it would be April 2024. That would mean a release for Salute, which makes sense.
Dead Man's Hand is a game by Great Escape Games.
The reviewed product item was provided by the manufacturer.
Enjoy this article?