Great Escape Games, the company behind Dead Man's Hand, released a plastic set of Gunfighters earlier this year. They sent over a sprue of these and we're going to cover it today.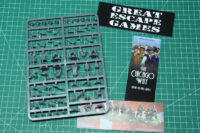 Dead Man's Hand is not the only game they carry, beyond the Western skirmish, Great Escape Games has a broad variety of rulesets, like the world war 2 platoon sized Rules of Engagement, 1920's gang fights in The Chicago Way or Clash of Empires, a mass-combat rule sets that covers the Ancient to Medieval era. Most of these games are not only supported with rules and supplements, but miniatures as well and in the case of Dead Man's Hand they released this new set of plastic gunfighters. Two sprues per box at 15 GBP.
As mentioned above, we have one of these sprues on the table and it covers five gunfighters. From the layout this is produced by the same company, that does a lot of work for Plastic Soldier Company, Warlord Games or Frostgrave. So, the quality is very comparable to what you receive by Renedra. Low amount of mould lines, good details and proper use of the sprue itself.
Let us start with assembling five gunfighters. We have moving poses, with rather wide stand and one kneeling. The upper bodies are either wearing just shirts, vests or a coat. At this point, you already have to do a dry fit, as not every upper body properly fits with each of the legs.
There is a variety of rifles and pistols available. Some of the rifles have to be assembled, as you only have to glue the barrel to the stock. Here are some minor issues. Not every arm fits to every body properly, especially those closer to the body or carrying items, don't always fit without cutting either the body or arm. Having rifles held in two hands is not as well done as for example with the latest Bolt Action kits. It is not a horrible fit, but as we are building gunfighters for a skirmish, the miniatures are closer in focus compared to platoon sized games for example.
As the body and arms guide the movement and especially the perspective of each character, I decided to wait until then for the heads. 11 different heads for 5 bodies, or 11 different heads in total for a box of 10 is not that much of variety. Especially as the designs are not that different from each other. The heads in hats are very similar in design, and I am missing some younger faces or variation in general. At this point I am not sure, if this is the first gunfighter set and we may see some further kits or sprues, with different designs.
The final step is adding some additional details, like holsters, a bundle of dynamite, rope or badges. There are enough badges to make everyone a lawman, but to be honest these badges are quite big. As with some of the items like the rope or dynamite, there are no proper hands holding these items, so you simply glue them into empty hands. Which is not the best design choice.
How do these new plastic gunfighters fit with other miniatures on the market? Quite well as you can see. In the first picture they are with Artizan Design, the second pictures shows them with Wargames Foundry (who's range varies a bit in height) and Boot Hill as well as Brigade Miniatures in the last picture.
And of course, the random assortment of gunfighters, completely build, so just show you what is possible.
Conclusion
It is always good to see new plastic kits on the market. They give you more room for your own creativity, but have some limitation due to the modularity. And this is unfortunately a bit the case with this sprue. In other systems, a plastic kit enables you to build rank and files on a lower budget and unlocks you from maybe the few poses that you have for a certain type of unit or soldier. As Old West is very popular among wargamers, you already have a broad - possibly among the broadest - selections you can choose from, mostly in metal of course. And as you're not going to build a platoon sized project or similar for the Old West (unless you want to do things like wars from the 19th century in northern American, but then again you would need soldiers in uniforms and not gunslingers) I was a bit surprised about the announcement of these. Especially as Great Escape Games already have mostly complete ranges for their rule set.
But I know many people prefer handling plastic nowadays. It is more appealing to newcomers to the hobby and it is easier to distribute a book and a box of plastic gunfighters, compared with half a wall of blisters. This kit covers that, you can build a proper posse. The poses are dynamic and fit as well as level of detail is good enough. But there is room for improvement. Especially with the variety, that could be better. If you want to build a band of gunfighters around a Sheriff and his Deputy, this is a good choice, but if I was looking for some Outlaws or more generic Cowboys, I am missing some parts to be honest.
Unfortunately, we only had one sprue of these at hand, but we would have loved to tinker around a bit more. As these bits, in combination with the latest addition of plastic sets for Osprey's & North Star's Stargrave open up an entire new chapter - Space Western, like Galaxy Rangers or Bravestarr. Especially the later created a lot of positive feedback with the editors, as the combined project names of BraveGrave (or StarStarr) came up for the kitbash of these gunfighters and the Stargrave range. As I'll cover the initial Stargrave plastic kits, and I have some leftover bits from this review, I'll see what I can do and supply later.
Dead Man's Hand is a game by Great Escape Games.
The reviewed product item was provided by the manufacturer.
Enjoy this article?