Last friday the current issue arrived at the 'bunker and close to christmas the White Dwarf comes with some interesting goodies. The issue came in a card board sleeve, incl. an artprint and four bonus cards for multiple games.
Price stays the same at 8 EUR. And the cover is the special one delivered with the subscription issues. The cards cover a Strategem for Adeptus Titanicus, a Special Play for Blood Bowl, a card for Warhammer Underworlds and an Ace for Aeronautica Imperialis.
The first supplement for Warhammer Quest Blackstone Fortress was released last weekend. It is called, The Dreaded Ambull, and covers a new scenario including matching upgrades and miniatures.
When Blackstone Fortress was released, it was already announced, that it wouldn't stay a single release and further supplements and additions would be released. It is once again, a blast from the past, bringing the Ambull from the Rogue Trader era of Warhammer 40,000 into today's releases. Therefore catching not only the attention as a new release, but from the "veterans" as well.
Back in 1989, Games Workshop teamed up with Hasbro / MB and released with Heroquest - a fantasy board game with miniatures. For many this was the beginning of their wargaming hobby. Due to the fact, that it was a board game and sold as such in toy stores and not "just" comic book and gaming stores, the game reached a much broader audience. 2 years after they stopped producing Heroquest in 1993, a derivative - Warhammer Quest - was introduced. Still using the Citadel Miniatures but featuring now modular floor tiles instead of a fixed board, the game was a success and received a lot of additional content in form of supplements, articles in White Dwarf and Citadel Journal. And now, with Warhammer Quest Blackstone Fortress Games Workshop continues the more than 20 year old brand and expands it for the first time into the universe of Warhammer 40,000 (as Space Crusade etc. are games of their own).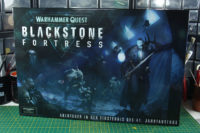 It comes a bit as a surprise, as we already had quite a lot of boxed sets this year by Games Workshop, just last month the one-off Speed Freeks, the month before that the Rogue Trader expansion for Kill Team. But here it is, a massive dungeon crawler just before Christmas.
Let me sum up this week. I'm currently preparing the review on Warhammer Quest Blackstone Fortress. If you pre-order it, many stores will give you posters and a poker chip as a bonus. And I already gathered a couple of miniatures for the scale comparison shots. In case you have any wishes, what I should cover within the review, just let me know and I'll try to put it into the upcoming article.