After the 2016/17 relaunch of Blood Bowl, I took the time to take a look at the current status of some of my teams and get a feeling what to do next.
As I already have quite a lot of teams and miniatures for the game around, there was no need for the whole new box, so I managed to buy just the pitch along with rules etc. on eBay. I have the 2007 (?) metal team around, but wasn't to happy as I missed a few of the mold lines prior to priming and started out with a too dark colour. So they got the special treatment and I stripped the colours, for a new beginning.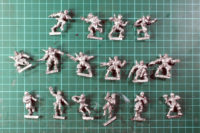 In June of this year Ayora Studio released a limited edition of Meinolf, the last Captain, a 54mm miniature.