In addition to the M3 Lee review, this article will cover the british Grant variant of the M3 with track guards.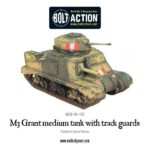 Unlike the M3 Lee, this kit is only available as made-to-order and therefore comes without a box in a simple bubble wrap bag.
As the M3 is already introduced in the other article, I'll focus here on the M3 Grant. Of the more than 6,000 Units the Americans build of the M3 Lee, 2,855 units were handed over to the British, who supplied them within the Commonwealth. The British had added modifications to their order, a different turret was designed with thicker armor plate, more space to house radio equipment and the machine gun cupola to be replaced with a simple hatch. The later was even done to some of the M3 Lee turrets in use by the British in China, Burma and India. And some of the M3 that were to be deployed in North Africa received sand guards, as this kit has as well.