As I had quite a good impression of the Tamiya kits in the past, and the 1:48 scale vehicles fit well with larger 28-32mm models, I added to the 1:48 Tamiya HUMVEEs and Black Scorpion's Last Patrol a M1A2 Abrams.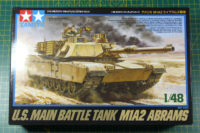 The kit is usually priced around 26-30 EUR and casted in sand yellow plastic. The kit is spread across multiple sprues, giving Tamiya the opportunity to use them in different sets / variants. In addition to the decal sheet, there is an a lead bar to up the weight of the tank.
That is a good start, but I added further lead to the hull.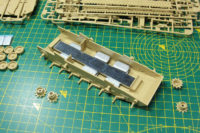 As a "fresh" (is 10 month still fresh? I guess) Dad, I have to be flexible, so parts of the build were done on my old Citadel Paint Station, when I move between my home office and other rooms in the apartment, to keep an eye on the little one. Build was pretty straight forward. Proper instructions and clean cast.
I was a bit afraid of the tracks, as some kits really cover that in a hellish way. You either have some rubber ands or an incredible amount of single tracks (takes for ever to assemble), but this worked pretty well. I assembled the three parts, but didn't glue them, to have better access to the tracks for painting them.
A brief comparison of the Tamiya Abrams in 1:48 next to a Leopard 2 by Empress in 1:50, it is a bit smaller, but mostly less wide. The tank can be used in many modern scenarios, and of course with Zombie Apocalypse, especially The Walking Dead.
Why TWD? In the comics, in the issue that Rick meets Glenn, he hides in a tank. That is an M1 Abrams. The scene is pretty close in the AMC series, but they used a british Chieftain for the scene. In season 4, when the Governor storms the prison, that's a M60 Patton.
In addition, the tank with Black Scorpion's Last Patrol, Mantic's Walking Dead and Spectre and Hasslefree Miniatures.
Fun part, due the colour of the plastic, if you're really lazy, you could simply wash the tank and paint the tracks - done!
I liked the build, proper quality of the cast and fit. Had no problems with the Tamiya kits so far and can highly recommend them. Especially as the current offers for modern 28mm vehicles are mostly resin and not that much of a bargain.
Enjoy this article?