The Rohan articles got a lot of feedback, and I am pretty amazed by the kits (the houses are great and I just ordered a second palisade kit), so that topic will be further continued / developed.
I have some generic terrain items in my collection, that can be used for almost everything, like boxes and crates. Along with the Renedra kits that I bought, I did a bit of scenes to see how they scale and work with eachother. I guess I have to paint those up fast and take some scenic pictures with Dino's Sword & Sorcery Frostgrave warband. But I'll go into detail on the kits that were used and how they fit in the separate posts.
The week was heavy on the Afrikakorps motor pool. It started with the 8,8cm FlaK, and continued with my ideas around the Sd.Kfz. 7 and Sd.Kfz. 6. Took the chance to try out the polling feature on my instagram, and had the chance to make up my mind on the matter.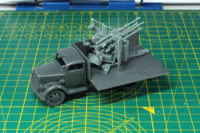 As I already have a few Opel Blitz and other transport vehicles for my Afrikakorps, I don't think there is the need for the vanilla Sd.Kfz. 7, and I'll build the kit with a flat bed, so I can either use it as a Sd.Kfz. 7/1 or 7/2 (as I got the 3,7 cm FlaK 43 kit last week, in addition to the 2cm Flakvierling 38). That way I can still use the 7 for cargo or just put a squad on the flat bed. The great thing about the gun placement is, that they work with other kits as well, as you can see here with the Opel Blitz. You could even build a small platform and use it on the chassis of a Panzer IV as the Möbelwagen.
This week Games Workshop added a corner graphic to some of the things they added on Facebook. "Read the Article", to further promote the Warhammer Community page and incl. a bitly short link in the intro text / image description. And I have to say, I am thinking about adding something like this to the social media thumbnails.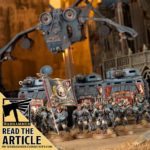 Why? It seems that quite a few people don't get that it's not just a picture but a thumbnail / link to an article. Asking questions that are clearly answered within the linked post or interacting with the thumbnail in unusual / strange ways. To be honest, if someone takes the time to create content and you have a question, just take the time if it is already answered / try to figure it out yourself first (for example by reading the article / comments) before just unloading the work to others. It just comes along as selfish and rude. With the Rohan reviews some people asked where to buy the kits, it is clearly stated that those are by Games Workshop and even linked to the shop - repeatedly. In some cases I am wondering how some folks manage everyday life.
The sunday posts of the weekend update comes with a bit of streaming and movie talk as usual.

I managed to watch Jojo Rabbit, I don't know what I expected. The anarchistic jokes and manners of Waititi were more or less all in the trailer. It is a good movie, proper pacing. But a brighter, harsh confrontation on the topic compared to When Hitler stole pink rabbit.
On Netflix Bojack Horseman released the second half of the final season. During these last episodes it tackled pretty close to some current topics of hollywood, at first it looked like it would go Cosby but landed somewhere near Louis C.K. The ending was fitting, a bit bitter-sweet, but the series so often reminded me of  Californication. Another new release on Netflix, was the Comedy Special by Tom Papa. I have seen him a couple of times on Joe Rogan, but never watched his stand-up, have to catch up on that.
Beside that Brooklyn 99 returned for season 7 and Homeland will return for its eight and last season next week. Unfortunately Ray Donovan was cancelled this week and won't return for its final season (and finish the cliffhanger...). Maybe we're lucky and similar to Brooklyn 99 it gets picked up by another network.
Oh and the Lasagna from last week was quite a bit of work but went quite well and tasty.
That's it for today, enjoy your Sunday.
Enjoy this article?