The month is over and I finished the summer project successfully! Yay! Realm of Chaos part one is done and ready for battle, four more to go.
To keep me motivated with painting and support the next projects, I received a small package from Spain, by Ammo by Mig Jimenez. The primers will come in handy with projects like the Afrikakorps, along with the pigments to dust up the vehicles and tanks. The bright yellow is for the Imperial Fists, but I'll go for a different scale to give it a try. More on that later 😉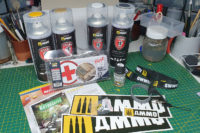 What is my goal for the next quarter? I want to pick up Adeptus Titanicus and set up a first maniple, of loyal war machines. I decided to go for Legio Astraman, Morning Stars. The core will be a Warlord, two Reavers and three Warhounds. With the further support of a Nemesis Warbringer and Knight Household. I have a few nice things for the bases in preparation and got a larger lot of 3d printed goodies, that will be used for and with this project.
Last weekend I was in Frankfurt and used the opportunity to drop by T3 Terminal Entertainment, as a friend of mine suggested the properly filled bargain bin. And after almost a year without wargaming events I just had to browse. And I found some nice things, at a proper price.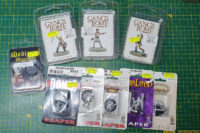 Gangs of Rome Fighter Primus - 8,50 EUR 3 EUR
Gangs of Rome Fighter Quartus - 8,50 EUR 3 EUR
Gangs of Rome Fighter Quintus - 8,50 EUR 3 EUR
Medieval Mayheim - Sir Lancelot 12 GBP 4,00 EUR
Reaper Space Mousling - 2,58 EUR 1 EUR
Lumberjack - 5,16 EUR 2 EUR
Zombie Survivor - 5,16 EUR 1,50 EUR
Sea Hag Razig - 5,16 EUR 1,50 EUR
Gloms - 6,03 EUR 1,50 EUR
Quite the steal!
I published the ten years throwback of our 2010 Nottingham tour. What a tour! We went for Warhammer World, to Warlord Games and Mantic, among others.
September was a long month, I managed to finally pull through Voyager. The last season had some interesting episodes, but I expected a bit more from the finale. I tiptoed into the next installment from the franchise, Star Trek Enterprise. Uff, that is really slow. And I have to say, after Deep Space Nine and Voyager not being the best paced and really taking some time to pick up speed, I am a bit full of Trek and the odd story arc. But I'll see how the next season of Discovery is set.
Cobra Kai was already available on Youtube Red, but now with the re-release on Netflix, I had the chance to give it a try. Well entertaining, partially a bit cringe, but overall amusing and it is nice to see the Karate Kid topic revisited with a different point of view.
Two new things on Amazon Prime, the next season of The Boys - with some proper w-t-f- moments. Highly recommended, along with the third season of the German cold war series of Deutschland 1983/86/89. Not on Amazon, but a new thing is Raised by Wolves. The trailer is quite a weird story telling. Impressive from the visuals, but I'm rather annoyed by Travis Fimmel and his re-occuring role as Ragnar, Fantasy-Ragnar and now Sci-Fi Ragnar. That guy didn't even shave or got a different hair cut...
And I finally came around to the fifth season of Peaky Blinders, story line itself well, I had a hard time with the fourth season already, but it is a wet dream for the british inter-war or A Very British Civil War fans, with all the story line on the BUF. Covered in 28mm by Footsore and Warlord Games.
Well, that's it for today and this month - let's get the final quarter of 2020 rolling.
Enjoy this article?