Another visit to Nottingham, after 1999, 2004, 2010, 2013, 2018 and 2020 - if I didn't miss anything in between. While the big theme of the weekend was BRING OUT YOUR LEAD, we of course wouldn't skip a visit to Warhammer World while were already there. Not much new in the front, the Rhino is still there, the old Space Marine they moved from the Office building (was replaced by a Stormcast) towards the courtyard in front of Bugmans Bar.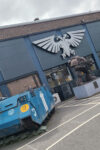 But they remodelled the entrance of the shop and gaming area a bit. There's a front desk and small store, along with facilities on the ground floor. This used to be "just" an entrance, with the service desk being on the first floor, along with the store. They enlarged the store, which now feels more like a larger version of a regular Warhammer store and less like the Warhammer World store, as they replaced a lot of the merch, reduced the exclusives (like T-Shirts, Mugs etc.) etc. for regular stock. The reading area of the Black Library was removed for regular shelves and added a painting area. You can get a good comparison if you look up my 2020 visit of the Hobby centre.
The showcases in the store now cover some of the more exotic Forge World ranges - partially OOP / OOS, as well as army projects by hobbyists, and some of them are well known, as you will see further below.
An impressive Deathkorps of Krieg project by James Morris and a Death Guard project that really fits the original name, Dusk Raiders, by Daniel Moody (MoodyMiniatures).
After meeting Louise Sudgen of Rogue Hobbies at Bring out Your Lead, we saw her Tzeentch Demons on display during the weekend as well.
Further on display were the novelties from that week, the Warcry Crypt of Blood themed box and the Nurgle Champion of Chaos from the army boxed set. Looking forward to get my hands on the Harbinger of Decay. Unfortunately they didn't have the new Lancer plastic kit on display.
Bugmans Bar is pretty much the same, they removed a few of the more comfortable seats for regular tables and chairs. On our last visit in 2020 they still had leather couches, for a bit more leasure seating when you got breakfast or a coffee. Beyond that, still proper choice of food (meats, vegan options, various items on the menu that consider allergies), reasonable prices and of course their own brews (brewed locally by the Nottingham Brewery), that are even listed on Untappd.
The gaming area was reduzed in sized a bit, as they enlarged the former Forge World store and cleared the first row, where they have to store stock now.
I think it is a bit sad, that they don't have a rule of only painted miniatures on the table. Some weren't even primed and that lowered the impression of the tables / gaming area. It's not just any store - it is the Warhammer Headquarter, so I think a "rule" like that would be reasonable.
There are some custom tables, you can book. For example this mining planet, perfect for skirmishs and often used with Necromunda or infantry heavy scenarios in 30k and 40k.
The iconic fallen Warlord Titan table was something that I spent a lot of time around, as I took a couple of pictures, as I intend to recreate the wrack for Adeptus Titanicus / Epic / Legions Imperialis.
The display cases on the sides covered some trophies from various events as well as Specialist Games / boxed games miniatures. I really like the raptor talon as a trophy, as well as the large Knight Household.
And I used the chance to take pictures of the Forge World displays, as we were told in the store, that these would be removed / replaced in the near future, to make room for more stock and will cover regular plastic boxes etc. A weird decision, as - again this is not a regular store but the Warhammer World.
Again, a pleasant visit and we were at Warhammer World multiple times during our prolonged weekend, as the food is solid (unfortunately our plans to go for one of the larger meals for dinner on saturday got blocked, as the kitchen had to close earlier - I was looking forward to those ribs), they have decent prices for drinks as well and wifi.
We intended to spend some money and we didn't really get to that, as the merchandise and "limited" items were low on stock and not a very broad variety. A lot of the items can be bought at Warhammer stores during their anniversaries. I was looking for some mugs, but they only had the leather ones (which I think is weird a choice) and most of the merch was by third companies like Merchoid, that you can easily buy online (and in some cases even with a discount). I dropped them an e-mail beforehand, to get an info on what would be on stock and what are the current exclusives, but didn't receive an answer (and from other posts on reddit, it seems this is a general problem). And for those shopping without a lot of luggage space, a bit of a downer, they raised the barrier for sending your shopping home. Back in the day, it was a free service, now you have to spend at least 100 GBP and they'll send it to you free of charge (side note: Games Workshop offers free shipping at 50 EUR in their online shop and even Forge World at 90 EUR).
We did of course visit the exhibition and took loads of pictures, so there will be additional articles to our 2020 visits of the Exhibition Centre (Warhammer Fantasy / Age of Sigmar and Warhammer 30k and 40k).

Is visiting Warhammer World worth it? Without a question, even if you've already been there a couple of times. It lost a bit of its excitement, of course, it was my 7th time, but it is far from a waste of time. I was surprised as we saw a lot of youngsters with their families, more than I've ever seen at Warhammer World, but that was due to british holidays as we were told. And with the offers at Bugmans and the freely accessible areas of Warhammer World it is not a problem to bring along your partner, family etc. who are not into Warhammer.
Warhammer World is an inviting venue, that offers free parking (incl. handicap spaces and barrier free access to most parts) and is open during the whole week, with longer times in evening over weekends. Just make sure to check on their event schedule, so your plans do not collide with tournaments or other special occassions, that may block parts of the venue.
Link: Warhammer World
Enjoy this article?