It took a bit to arrive, due to their vacation there was a bit of a delay. But the wait was worth it.
They had a Halloween sale (20% off, so i saved more or less the VAT on the miniatures). I posted the order on 15th october, they shipped it on 3rd November and it arrived on the 10th. For the delay they added a nice goodie bag to the order.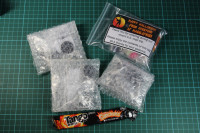 I had to take a longer break, as my health forced me to re-arrange my plans of the last weeks.
The work on Bolt Action continued and i pursued the concept of my spanish civil war army for early war. I converted the acw zuaves from the perry twins into moroccan mercenaries for my spaniards. Just some weapon conversions missing.
So here is the Weekend Update ... without Seth Meyers (you have to wait for Saturday Night for that one ... 😉 ). I did some painting. As you'll probably won't believe me and guess that i just have been basing some stuff, here are some pictures.
The German Marines are pretty close. I have to finish their faces, weapons and some details on the gear. But i like the camo and battle suit so far.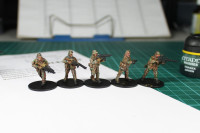 So i am back from Spain. I spent some very sunny days and enjoyed the weather and distance from the daily routine. Crisis is coming closer and the Radaddel Wide Open Door Day (on which I'll be doing a seminar on the tabletop market and its further development). If you have the chance, visit both events on 2nd November in Antwerp and 9th in Rudolstadt.
Today is match day at the soccer championship, Germany vs Sweden. I used the chance to catch up on some painting and want to share the current status with you.
I based some Lead Adventure German Marines on flat Renedra Bases.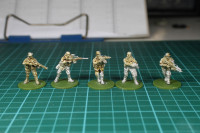 Answering the question, do the backdrops reflect? It depends. A quick snapshot what it's good for ...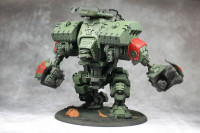 The weekend is close and the third quartal '13 started. Unfortunately no new color, but a few novelties and some finally built inherid burdens.
I ordered some Artizan Design some figurines via Miniaturicum. Nice additions for Legends of the Old West and Bolt Action. Along with some Gladiators from Crusader Miniatures, those aren't that great. Casting is okay, but the sculpting is average at best.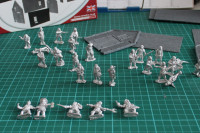 A prolonged Whitsun Weekend means some time for the hobby. I put some additional paint onto the Khador, more progress on the basic colours. Slowly, but steady.