Prolonged weekend over ascension thursday / fathers day!
Working from home continues and my "office" is more of a studio than an office-in-home, so I work where I usually do my reviews and such. The notebook took a toll on the cutting mat and the exposure to the heat made it warp quite a bit. Therefore I replaced it with a new one and added a smaller A3 one on top. But will switch back on monday, when the regular work week continues.
And finally my Warlord order arrived, including my new open sea gaming mat, that I want to use with Cruel Seas and Black Seas. Along with the ships by Hagen Miniatures, I am looking forward to put the naval week(s) on here.
I covered Oldhammer earlier this week, with discussing the idea of the Realm of Chaos, along with some insights on recasts. Beside that, I split the Instagram, now running my private one under dennismit2n and the "official" one, doing only wargaming on chaosbunker.
Restarting a social media account gives me good motivation, to reshoot some of my older painted miniatures. And I already started to do so since tuesday.
The prolonged weekend meant for me, that I had some time to prepare some more time consuming food as well. I went with a theme of texmex kitchen for the days, prepared Pulled Pork for some loaded nachos, made Carne Asada (after a recipe by Sam the Cooking Guy) for the first time. As it is rather hard to get US cuts of meat here in Germany, I went with rump steak instead of flank for that. As usual I made the tortillas myself, using Joshua Weissmans recipe but went with a 50/50 mix of masa harina and wholemeal spelt flour instead.
Wargames Illustrated published issue #6 of their bite-size interim magazine, and I found a very interesting interview with Nick Eyre (of North Star Miniatures) online on John Wombat.
Further adjustments to the event schedule for 2020 necessary. The Spiel toy fair in Essen was postponed / cancelled, as was the Table-Topia in Aschaffenburg. I guess that the remaining events will be cancelled as well, at least in Germany. There is a concept for smaller gatherings, that would allow for a couple of wargaming events to happen, but the health regulations for distances, sanitation and such would simply make it too complex to actual be held. I am very glad that we did the early trip this year in january.
Games Workshop introduced the 9th edition of Warhammer 40k, well ... a bit surprised that they did only show so few of the new miniatures. The leaks of the new Primaris troops look interesting, bikes, close combat and honour guard with very bold sculpts. Along with the price "adjustments" (the lists were leaked as well), I simply have little use for that. The Stormraven will go up to more than 80 EUR in two weeks, from its current price of 70 EUR. I reviewed the kit, when it came out in 2011 and it was 52 EUR back then. So yes, they raised the price on an almost 10 year old kit by 60% ... and it is not the only one where they went more than just a bit overboard.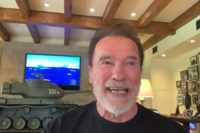 Earlier this week, I saw a short on Youtube, with Arnold Schwarzenegger on Jimmy Fallon, where he talked about becoming a grandfather. That was cool enough, as the kid is part Schwarzenegger, Kennedy and Pratt. But I was more interested in his 1951 M-47 Patton, he has in his man cave (maybe that's just a model of the real one he owns). First I thought it was a M24 Chaffee.
As for movies, I enjoyed this weeks episode of What we do in the Shadows, with the internet trolling. Great! As with Deep Space 9, I am at final episodes of season 6 and you notice, the show is coming to an end. I looked ahead on to the summer schedule of tv series and it's getting scarse. I can strongly suggest this tool to keep track. Space Force will start next weekend on Netflix, I'm really looking forward to that.
I watched Downhill with Will Ferrell, it's a remake of Force Majeure. The remake is such a pointless waste of 80 minutes. It is not badly made, it's just incredibly boring and awkward to watch. I really hope that Volcano Man - The Story of Fire Saga, the ESC movie, will make up for that. It will air on Netflix as well, on June 26th. And I caught up with some of the comic movies, starting with Justice League Dark - Apokalips War (sic!), love the moment when John Constantine and an Ozzie are pulling eachothers leg.
Enjoy this article?