That's halftime for 2022 already. A bit unexpectedly - at least for me - the last weeks were filled with a lot of Horus Heresy content.
Why was that unexpected? Well, I do plan ahead and do some (at least rough) scheduling for the content road map for the blog, to tie in articles, prepare the content itself and such. I was aware of the Horus Heresy release, and initially my plan was to cover my own 30k content in Adeptus Titanicus to go along, but I was provided by Games Workshop with some of the novelties, and I covered those instead, pushing the other items back in the schedule.
Happy coincidence, the featured legions of the boxed set are Imperial Fists and Sons of Horus, both faction I was already set on for before the announcement and release of this kit. And I even chose the exact patterns, of Mk III for the Fists and Mk IV for the Sons of Horus.
This meant, I covered the Age of Darkness boxed set, with an unboxing of the starter set itself, detailed reviews on the content, like the impressive Spartan Assault Tank, and further coverage like the Liber Astartes and Liber Hereticus. But we're not finished yet, there will be a sum up along with a community interview.
As I have a massive sweet tooth for the store exclusives and goodies, my local Warhammer store and go-to tabletop shop had my back. I really love the idea of the lodge coin, such a fitting goodie for this release. And the Horus Heresy pin is just massive!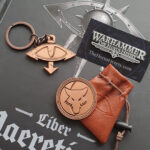 Some of the additional items that went on sale / pre-order earlier this month were the decals and dice. Those are re-releases of the original Forge World products. And I treated myself to the Carta Galactica, as this was likely to be sold out, I ordered directly on Saturday, along with the Sons of Horus dice for free shipping, and wanted to order the decals for both legions along with the Fists dice a few days later during my next visit to the Warhammer store (support your local game shop), as they sorted out the pre-order goodies for me as a thank you. Well, Sons of Horus Decals were already sold out...
As for the decals. They are not cheap, but the price is cheaper than what you're paying on eBay, and as I don't need them for 28mm but for epic, they will provide me with enough material for my project. These are full A4 sheets, with lots and lots of insignia and much more "artistic" than what you get from the regular 40k decals. This is a design choice, as you want to show the marines and vehicles in their pride of the Age of Crusade / Golden Age, right before the Age of Darkness.
And what hit me completely off-guard. Just as I ordered my dice, and they weren't even delivered yet (neither sold out ...), Games Workshop released Legion Dice in a different design for both legions. Why?!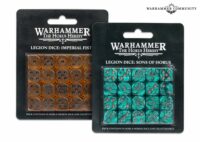 But June was not all about the Heresy, I squeezed in the review on the Sd.Kfz. 250 Ausf. A, and I'll cover the Soft Underbelly book for Bolt Action in the near future as well.
June brought along something very beautiful, after a break of more than two years from wargaming events, I was on a road trip. I was invited to the CONflict 2022 event, where I was the last time in 2019 (which was the last time it was held), and had a blast. Really, a huge thank you to the hosts and all the lovely people that came around for a game.
And with that being said, the next Good News! Our tour for Crisis is booked! Last event there was 2019 as well, and in 2020 I wrote a throwback on the shows that I visited since 2011! I'll try to provide a tour guide of some kind for different approaches of the event. In case you want to make it a guy's weekend, a wargaming gentlemen's week or family trip. We'll see. A friend of mine, WestwoodBBQ, who's a food blogger, was invited with a few colleagues for a foodie tour to Antwerp - called the meatandbeerflandern, and I think that is something a lot of wargaming people could enjoy. Don Caruso wrote his sum up on his blog (German).
I managed to get my hands on some remainders of the Killzone Sector Mechanicus boxed set from the UK (not the one I reviewed here, that's the old 2018 boxed set), but the one with a higher price and less content. Yet, we found a retailer that sold them for 31,50 GBP each and we got a few of those, as they will come in handy in the Underhive builds, like the Guild Hall.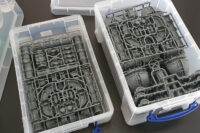 We were on vacation last week and did a family trip to Franconia. I mix in occasional hobby stops, if they fit. Because of that I went to the local Warhammer store in Nuremberg, had a quick and friendly chat with Jannik. Nuremberg has a larger store with more space than what most other city have and it is pretty close to the inner city. You're not going far off if you want to drop by, just like 300m from the Lego Store.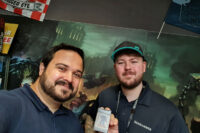 While in Nuremberg, we stopped at Ultracomix. Very famous, multi-level store for all kinds of nerd pleasure and around for a while. They have comics, LARP, board games and such, and of course tabletop wargames. Those are in the basement and their range is quite broad, which is rare in Germany. Yet, prices aren't that competitive, most is RRP and in some cases even above that. But they lowered some price tags to more reasonable ranges, so no more 18 EUR SAGA dice or 40 EUR perry plastic kits.
A surprising discovery was made while I was in Bamberg at Comixart. On the inside, mostly comics, just a very small Games Workshop stock (a thinned-out paint shelf and some starter products), but when I went outside again, I saw this in the store window - a McFarlane sized Blood Angels Primaris Outrider!
And this not something that you can buy, but a custom build by DesignMinion. He posted it a year ago in reddit, and did a brief video on how he went on to design the bike itself on YouTube.
I have a bit of vacation left and am back at home, so I hope to reduce some parts of my backlog, do a bit of painting and 3d printing. As I mentioned, I want to follow up the introduction of the Horus Heresy with my personal conclusion on the project. I need to add the decals to my Mordheim Marauders, as everything else is already done (basing, clean up etc.), and those can move to the showcase. The Imperial Fists shall see some love in 8 and 28mm, as I want to drop some paint on the printed models as well as do some further preparation on the 2nd edition retro project.
Beyond that, I'm on the next Horus Heresy audiobook, Descent of Angels, which covers the Dark Angels. It is really slow, and set very early, so prior to the actual founding of the Dark Angels, while Lion El'Jonson has not yet met the Emperor, at least in the first third. And it is a bit difficult to stay in the hobby bubble, as various "distractions" of all kind, that barely have anything to do with the hobby itself are very present. This hobby is for everybody, but I don't have to play with everybody who shares that hobby with me, only with those who I feel comfortable around and enjoy sharing spending my time with - and that is my decision, not gatekeeping.
Enjoy this article?