The concluding post to our Operation Sealion 2018, the haul, the loot, the gathered goodies and shiny stuff made from metal, plastic and resin. If you're going by plane, make sure to have enough empty space in your luggage to cope with your buying. As mentioned before, I was quite happy about the shipping services of some of the companies (and that is the reason, why this post was postponed in comparison with the other coverage, as I was waiting for the remaining miniatures and kit to arrive).
But let's begin, this pile of boxes and blister is my yield of our trip to Nottingham and Salute. Let us begin with the main event, the Salute 2018. The South London Warlords did once again a great job with the show, and I made sure to get my hands on the 1918 memory event exclusive vignette, sculpted by Perry Miniatures. It shows a trio of Soldiers from World War one, a french, a british and a german soldier. The always have further souvenirs at their booth, so I made sure to grab two sets of dices (with a poppy on the six), a badge and a copy of last years female russian standard bearer miniature.
Of course, no event coverage is really completed without the haul, the loot, the goodies that you've brought home. So let's see what I got myself this time.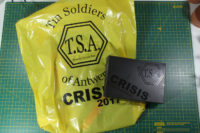 On April 22nd, was the Salute 2017 held by the South London Warlords. Salute is the biggest independent one-day wargaming and gaming event in the UK and likely in Europe. I visited the show last year in 2016, had a great time, as you can see here in the Parts I - IV of my coverage (Part I, Part II, Part III and Part IV).
This year, due to time issues, I couldn't be there myself, but a good friend of mine, living in Cambridge, was kind enough to bring along a few items for myself and even kinder to drop by the next day (24h express wargaming goodies delivery... so great 😀 ).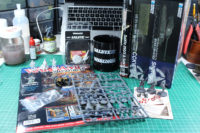 The sunday before easter, the 9th Bitbox was held in Mülheim an der Ruhr. I got my own table to sell off parts of my collection and it was quite busy, as you can see, so i hadn't had the chance to take that many pictures.
Around noon it was really really crowded, and miniatures and money were exchanged - often and happily. And you could still feel the "afterwaves" of the big notice wave last year at Games Workshop Germany. Still lots of promotional stuff, employee exclusives and even official gear on sale. And the hosts, Freebooter Miniatures, was offering their range as well.
I am back! From a whole weekend in Antwerp, spend the time beside the show discovering the city (more on that later). It was the 20th Crisis, hosted by the Tinsoldiers of Antwerp, and i'll begin with my yield from the show.
I am back from the 5th BitBox, the first in 2014. Boy, what a blast! And what bargains i could gather.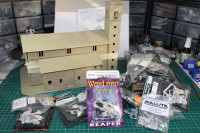 I still owe you guys some reportage on my Nottingham trip.
The 4 days around Warlord Games Day were not only used to visit Warlord Games, but Mantic, Battlefront and the Warhammer World as well.
First off all, what did i bring back to Germany? Due to travelling by plane a little bit less than i would have otherwise.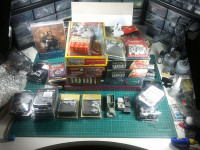 After a cheer endless wait and a major mess up by the post (somehow losing 2 packages on their way to me ...), friday was finally post day and some good stuff arrived.