The younger plastic Ardboys have the tendency to have very large surfaces of armor, which can lead to the Space Marine effect. The Space Marine effect? This is the kind of boredom you get when you paint the same color on large areas for a long time. Although the new Ardboys also have many smaller details, such as pelts or protruding leather shreds, the armour retains its somewhat bare plate look. So it takes some time to get to the point where you add a little more variety to them, such as a flame pattern, a few glyphs, spikes and the like.
Izgrod

A big mouth and the choppas to back him up, that`s Izgrod. He`s been with the Redfists for a while now and has seen numerous battles. Time has made him posey and the other Redfists rather dislike him for that. Usually Gotmork would`ve just killed the lesser disciplined Orruks, though at the moment Izgrod is too valuable to do so. But as the Redfists numbers will start to grow, his position, and his life, might not be that safe in the future...
Dull drumbeats roar across Jagged Savannah of Ghur, calling the barbarian nomads to arms. Wild warcries mingle with the animalistic roar of the great beasts and are barely distinguishable. It's time to go and prove to Archaon the Everchosen as relentless enough to join his legions.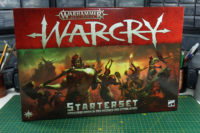 I've got into WarCry, too. I have been skeptical at first, but I could quickly learn a better one at my local dealer with a look in the new box (and in the rule book). The joint project "Lords of WarCry" here at Chaosbunker offers a nice opportunity to document the assembly and the painting of the really extensive box. Since Dennis will be the first to have a go at the buildings and Dino takes on his Orruks warband, I start with the Untamed Beasts warband.
Each Ardboy has its own name (even on the underside of the base) and individual character, but all have the same style of paint scheme. I often paint according to certain "recipes", in order to not forget how I did it and to get a homogenous look. With ordinary orcs I wouldn't mind, but Ardboys have a certain talent for discipline and order (in greenskin measures). So I had to be able to create the same colors on more than one model.
For the first two Ardboys I used old blackorcs made of pewter. Although I am not a friend of metal miniatures, these were better for practicing than the new plastic models. The surfaces are clearly divided into chain mail, skin, plates, fabric, belts and teeth.
Morog

A shield wall is a good method to delve deep into the turmoil of battle and the Redfists have almost perfected this method. The shield-bearers push themselves slowly forward in an indicated v-shape, only to suddenly stop, while the boys with the big axes jump over them.
The WarCry hypetrain is in full throttle in the vastness of the internet and we also heard the call to arms in the Chaosbunker. Personally I'm going to work on parts of an old project and continue with it, because I have a lot of unpainted minis lying around at home for Age of Sigmar, but I didn't play anymore after the release of the second edition. Participating in a group project is a good opportunity to reduce the pile of shame a little bitand still have fun.
Respect da Redfists
Among hobbyists, it has become a bit of a tradition to spoof the name of the eighth month of the Roman calendar with the word "orc". A habit that has also been taken over by the industry giant Games Workshop, which leads to increased painting activity in many forums among the friends of the greenskins. Looking through my own shelf, I noticed that I had stacked up a lot of those models myself, which were still waiting for a paintjob. Since I really love the skirmish expansion, I have decided to organize some of my models into several little warbands.
In addition, the Warhammer 40,000 kill team is currently running very well, and if you take a look at some YouTube videos, it seems to be so narrative that it reminds many players of the old Mortheim in style. It may only be a guess, but I could see a game like this also appear for Age of Sigmar in the upcoming future.
Okay, a new project - so far, so good. Now it is time to get around the usual pitfalls and one of them is that you are often making plans too big and that too fast. So to keep track and motivation, I decided to draw the line at a maximum of 50 renown. This has the advantage that there is always an end in sight and on the other hand, that I can divide the structure into smaller, more pleasing chunks. In the first block I will lay the foundation for the warband and its story with 30 renown:
(24) Savage Big Boss Grukk
(2) Morrboy Boss
(2) Morrboy
(1) Gitmob Grot Boss
(1) Gitmob Grot with spear and shield
Even at the time of the seventh edition, I always wanted to put a "wild WAAAGH!" on the table, but the sheer amount of models simply put me off. In AoS skirmish I can comfortably pack everything in that I wanted without making it a Herculean task. I started out with an ordinary Bonesplitter.
Almost a year ago, in June 2017, Games Workshop has released an expansion for skirmish games, a band-oriented approach to playing Age of Sigmar, with just a handful of models. This scaling preserves the simplicity of Age of Sigmar's original framework and breaks the games playtime down to 30 to 60 minutes.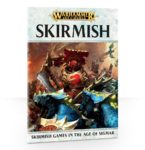 What is it about?
The rules of AoS Skirmish aim at building small, thematic warbands. Choosing your warband is limited only within the grand alliance, not within a specific battletome. The size of the warbands is estimated throughout a points value called "renown" and is usually between 25 and 100 renown large. From there on, the game takes on a size that is already sufficient for regular Age of Sigmar games. The gangs clash in different scenarios, half of which are designed for a balanced game, while the other half contains a certain imbalance. All six scenarios can be played as a linked sequential campaign.
Just before the next edition of Age of Sigmar will be released, I want to take a closer look in this review on one of the "introduction" games to the Warhammer World, Warhammer Underworlds: Shadespire.
Games Workshop released Warhammer Underworlds: Shadespire last year in 2017, as a tactical miniature board game, at a lower entry point, much smaller in size and number of miniatures as for example Warhammer Quest: Silvertower. Shadespire is played in an ancient and damned city, between the realms of Light and Shadow, in the new post-Old World Warhammer Setting, as an "arena game" using two hex field boards with matches taking around 30-45 minutes. Everything you need for your games is included, with the push fit (means no glue needed) pre-colored plastic models and you only need a cutter to prepare the game.
This year, Osprey Games had a surprising release of Frostgrave, a fantasy skirmish in a frozen city. The release of a wargaming rule set, is nothing new for Osprey, so why is this one so popular?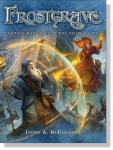 Frostgrave is more than just the plastic kit. Northstar offers quite a lot of Blisters with the initial release, so i beefed up the Soldiers with a bunch of magicians and wizards.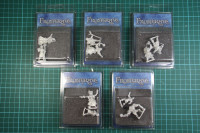 Northstar did a Nickstarter for Frostgrave, a fantasy skirmish ruleset, and even included a plastic kit of soldiers.