Another instalment of HANS! went through here after April and as there were  no other chances for a bring & buy or other kind of browsing through Wargaming items lately, I gladly picked up the chance again.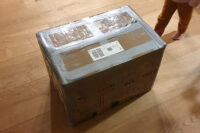 It is that time of the year again! Hans! Returns once more to my door step. And it is the 7th time, that is on its journey.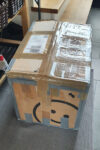 I've written about HANS! in the last years, so you can see what came around in 2019 with one of the first HANS that I participated, in 2020 with HANS V! and last years 2021 and sixth tour prior to leaving TTW.
It arrived! In July 2020 HANS was here the last time and it was glorious. Now he's back for his sixth tour and I was eager to see what was in there this time.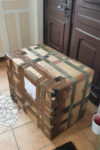 A not so happy post man brought him up to my door step, and his happyness to get rid off him vanished once I told him, don't worry, you're picking him up again in a few days. Yay ...
In 2021 I participated in two travelling wargames trade boxes, and the first one, the "Kramkiste" (stuff box), arrived. A bit lighter than I expected and with the modest trades of the participants before me, I didn't really knew what to expect.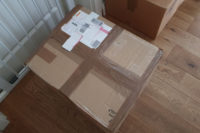 Late last year I participated in HANS! the traveling wargaming treasure chest, and another one was sent on its way in June, just to arrive on wednesday at my door step.
DHL didn't do the best job this week, after destroying a package and losing its content from Nuremberg to me, that was one bad experience and now taking over a week to ship HANS! about 280 km within Germany, wasn't that great either. But thankfully HANS arrived in good shape.
As I wasn't keen on picking this one up at the post office, I took care to accept HANS in person and as they have the tendency to drop by while the little on sleeps, I have mastered the art of catching them before ringing the door bell. And there he was, in all his packed glory.
With all the shows and events being cancelled this year, and my last contact with wargaming person being my visit to Warhammer World in january, I was really really looking forward to do some digging through the boxes.
Earlier this week, Warlord Games announced Sea Monsters for Black Seas. Which is quite cool, as I was already looking for a white whale miniature. And I managed to clean up all of the schooners. Lot of pewter ... unfortunately rather soft pewter.
In May I participated in the latest "Stuffbox" from the Sweetwater Community, the one from TabletopWelt got lost by Hermes - great job guys! But a new box was packed and went on its way. And with an eye on the tracking I knew HANS! would arrive today. A brief ring on the door bell and a small lipped good morning by the postman confirmed that and the heavy load of the content.