In my article, Blood Bowl: Solo Campaigns, I've talked about how the backstory of a team contributes significantly to the immersion in a solo campaign and that I'm actually following that method in the Journey of the Maulers series. For the fans I already did this, as each of them got a few lines of background. These are usually rather short as they serve as a basis for their character development and can be expanded both narratively and throughout the campaign.
Today, I lay the foundations for the background story of the Maulers as a whole and at the same time I deal with the logo of the team. Draw again a parallel to the real sport template of American Football, it is noticeable that many teams are recognizable by a certain symbol, similar to the heraldry of a knight's house.
I should warn you - today's post does not contain any miniatures, just a few scribbles that have sprung from my twisted, creative vein. But if you like a bit of story about Blood Bowl teams, you can sit back and enjoy the first real chapter of the Maulers' journey ...
Since I rebuild the Maulers with a narrative approach and would also try to follow that in play, I've of course taken a look at the new rules and discovered the section for (in)famous coaching staff. The nice thing about the section is that the new staff are not optional but official rules, which means that I can use models for the staff at any time, as long as I have something to represent them.
Fink da Fixer is a perfect example of the twisted trickery and cleverness of a Goblin. For a staggering 50,000 gold pieces, Fink brings the equivalent of three coaching assistants to the team and a re-roll for failed bribes on fouls. Also, if you get caught in the act and are argueing with the referee, you can keep your player on the field at a 5+ already. He is available to all Ogre, Orc, Goblin and Underworld teams.
Having played a couple of games with my Underworld team, the Skycastle Titans, I've gotten a taste for fouling and intend to use Fink more often when I reach the next step of building the Maulers up again. However, until then Fink will take over command of the fan club of da Kneebreakaz.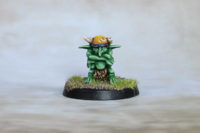 It is one of my habits to give each of my coaches a motivational mascot and since I have a fable for Squigs, it was once again a specimen of the red-skinned maws on two legs. The model is from Goblin Guild and captures the atmosphere of Blood Bowl quite wonderfully.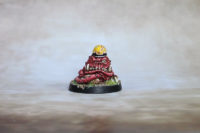 Two more recycled Warhammer figures made it into the fan block. While I mostly repositioned parts on the other models, this time I modified one of the Orcs with a few parts that were still in my bits box. As I like to use Blackorc elbow pads on other models as shoulder armor, I still had some armored gloves left over and gave the former standard bearer a metal mitten. Although I put him in the crowd of fans, the model actually represents one of the former players, travelling with them while the team rebuilds.
More old Warhammer miniatures have gotten a stylish makeover and are now loyal fans of the Maulers. It is easy to see what effect the restauration of an old figure can have. I remember quite well that I didn't finish the musician's drums at the time because I felt burned out after more than twenty orcs in a row.
In my last article on the Maulers I introduced Bonkh and Gabru. Today's introduction is a bit shorter, but it's a short character as well, so it seemed alright.
I rummaged in my bitsbox for suitable models for Blood Bowl fans and found an old crew member of the doom diver catapult. I never had the catapult myself, but I've always loved the goblin with the hammer. At that time, I simply did not have any use for the model, no matter how much I liked it, but a small greenskin with a hammer seemed to somehow fit in with the flair of the Maulers fan block. To paint the hammer was an interesting experience, because I experimented with methods of painting wood at that time and I did the whole thing in eight quite complex steps, layer by layer.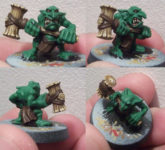 In the introduction, I talked about giving the team a new paintjob. As explained the team color should not be red, because I had already painted the Gouged Eyes in their classic look and after quality had suffered from a rushed attempt, I couldn't get satisfied with blue anymore either. Yellow was a color I had never really tried before. Although I had other color combinations in mind, for me personally, yellow was simply the color that united the cheekyness of the orcs best within the community - hard but clever, clever but hard. For the color to work, it must be seen in the right places and needs very hard accents on the edges.
But I didn't know that at that time and I wanted to test the color on a different model instead on a member of the team right away. Since I am a big friend of strenghtening the immersion of the setting, it was clear to me that I wanted to have a small bleacher with fans. Since Orcs do not have to pay too much attention to a consistent style, it was a good opportunity to test different styles of yellow. Now the only question was which models I should use for the fans. Around the same time, I had stopped playing Warhammer Fantasy Battles, as the amount of miniatures needed was enormous and I had to lower the standard here as well, should I ever want to see the horde completely painted.
Well, what can I say, in my Warhammer army that plan had failed, but I had kind of grown attached to the models and so it seemed appropriate to give them new life by practicing yellow as a color on them and at the same time give them better painted quality. No sooner said than done. I grabbed two old Orcs from a regiment, snipped off their weapons, repositioned their arms as if they were just involved in a fight and painted them anew. In general, Blood Bowl not only persiflates the sport but also its fans, so a bunch of hooting, belligerent hooligans would look well on the sideline of the field.
From lousy foot soldiers to die-hard Blood Bowl fans …
At some point in late February 2001, I started to cobble together an Orc team for Blood Bowl. Although I had already painted the team from the 3rd Edition boxed set, I wanted a team that looked a little more contemporary and individual. Since most of the Orc teams had red as their main color at the time, I chose blue. No one used this color for Orcs in my group of players, and since I associated this color with the fictional orcish deity Mork, the name was quickly found: Mork's Maulers.
The Orc team from the 3rd Edition boxed set…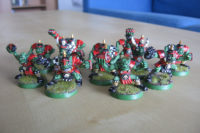 …and it's expanded roster
First of all, I have to make it clear that you cannot play Blood Bowl alone (except virtually on the computer). In a solo campaign you play against other players too. So how does a solo campaign work then? At the end of 2009 I had the idea to use leftover parts from my bitzbox to reduce my enormous pile of miniatures a bit. After a brief look, I realized that I had a lot of skeletons, a few zombie parts, the old model of Ramtut, and a few 3rd edition human players left.
After putting together one of the models, I tried out the color scheme I had in mind. As I liked how it turned out, I decided to paint one model completely before each game, so after ten games I would have a fully painted team of eleven players without losing motivation on the go. In short, this was the basic idea of what would later become known as the Challenge.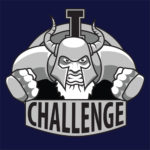 While Dennis summarized 2018 in his annual review quite smoothly, I'll take a look into the glass orb for 2019 and do what a true hobbyist can do best: make plans and try to do everythin possible that they turn out differently! Accordingly my main point on the list of good intentions for the new year is to stick to my plan!
First of all, there is a warband for Age of Sigmar: Skirmish, of which I have already finished two models and where the progress on the rest is nearing completion.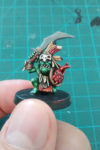 Afterwards I'll take on Dreadball for a while, as Mantic Games was so kind to provide us wit the second edition starter box, as well as two more new PVC teams. Hobbywise there will be more stuff in this department as well, because of course I want to have at least the teams of the starter box painted - and that from both editions, the first and the second.