Sorry for the delay, the change of month some kind of passed me - hobbywise, so here it is.
I am using the Faller Spezialseitenschneider (RRP is 13 EUR, but you can pick them up for around 8-9 EUR) for a long time now and it is probably one of the best tools in my tool box (next to a clay shaper). But it isn't the only side cutters I own, I have a few for different purposes, like cutting metal or thicker sprues, with different tips and sizes. The Faller one is perfect for removing bits and pieces from sprues, and I occassionally use it for resin and the marathon of declustering my stash, cutting up sprue frames before binning them (and not swapping for another pair of cutters) wore it down and the spring broke. Anyhow, I got myself a replacement, two to safe on shipping. By the way, if you are looking for more reasonable priced tools, I recommend this video by Trovarion.
And you've probably heard that Ziterdes is closing down, the tabletop subsidiary of NOCH (a model landscape company). Famous for foam terrain, they even did cooperations with Games Workshop back in the day and I managed to get my hands on the Ruin Set Nalog, which is meant to represent the Weathertop. I'm usually not that into foam terrain, with certain exceptions like MAS hill set, but in this is case it so much lighter and sturdier compared to other material, especially for something this size. Due to the LotR style, it can be used with a lot of different fantasy settings.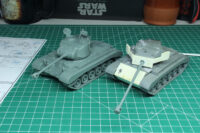 One of the items that I brought with my from LARDwerp, from the Tabletopper.nl booth, was the Rubicon Pershing kit. It unfortunately doesn't cover the WoT Super Pershing with the ears and I was struggling with myself, if I would actually need this kit. But as it still covers a few different variants of the M26 Pershing and would provide me with some bits for my started T26E4 Super Pershing conversion (yes, I started this in 2017), I went for it. I will go into detail on this, but I think with the other armies having a rather large motor pool, the US Americans could use something heavier than Sherman - twice.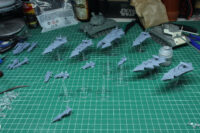 I continued the work on my Chaosfleet, the current weather prohibits me from proper priming, so the progress was mostly assembly and sorting out missing models from the fleet. As with the Pershing, I'll cover this in an article of its own.
When I was covering GrimDarkTerrain with the Hermes in one of the last reviews, I already wrote that I would have larger items custom printed. And so I did at MegaSonicPunch, and got myself the Samson Freighter, Aeolus Landing Pad and Excavator Maioris (Bagger 288 vibe!). Look at the size of those beasts, I am just aware that the initial pieces don't fit my print bed, but how large the whole kit is always surprises me. Very likely I'll cover these in a review as well.
And last month the Not-Crisis happened and the TooFatLardies hosted this show, I covered the LARDWERP on here. This year a few shows or at least gaming gatherings happened, with Lardwerp being the latest, and Internal-Conflict in Rheinland as well as the Rhein-Main-Multiversum, the only other ones I managed to participate this year. So I picked up my Event Schedule, but a lot of shows aren't scheduled / announced yet. So far fixed are these
For a lot of shows, like Poldercon, Utrecht NL, Red Lion Con (Braunschweig, GER), Ad Arma (Meckenheim, GER) or Tabletopia (Aschaffenburg, GER), there aren't any infos out yet, but I'm looking forward to it.
Enjoy this article?