In the last article I talked about how my painterly aspirations first developed in such a way that I wanted to reach a pro level. However, this was rather the beginning of my journey as a hobbyist and my preference has shifted a lot in the meantime.
One thought was pivotal at that point: How do I perceive the models when I first see them? In my youth I was strongly influenced by the painting style you could see on the packaging, in rule books, or at that time in the White Dwarfs - most hobbyists call this `Eavy Metal style, after the studio team that painted the models for Games Workshop. I realized that I wasn't really striving for the hyper-realistic style often seen at painting competitions, but rather the `Eavy style, because the models had met my eye in this way and my mind automatically judged whether I liked or didn't like them.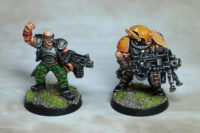 This cartoon-like style is basically quite easy to achieve as long as you learn some brush control. The basic principle remains the same, even with high class paintwork: A midtone, or "the basic color" is chosen. This is shaded and then highlighted with distinctive accents in the more edgy areas.