So I am back since the middle of the week. Been busy, taking a lot of pictures, as you can see below. Build a couple of kits, among them three Knight kits for Adeptus Titanicus.
And the July 2019 issue of White Dwarf arrived, along with a new promo card for Warhammer 40.000 Munchkin. Remember that I have some spare promo cards and book marks and you have the chance to get them, just by asking me for them at a convention or show.
A couple of interesting articles in there, for example I really did enjoy the new colour scheme they showed for the Astra Militarum / Imperial Guard, along with this beautiful Kill Team by Maxime Pastourel (also known as Mörback from Les Kouzes and I've shown his stunning Nurgle Army from Warhammer Fest here). There is a new game mode for Underworlds, have to give it a try.
Welcome to 2019 and we start the year off with some cooking! Originally I wanted to cover my brined roasted chicken that I made for Christmas, but I wasn't that satisfied with the result and may give it another try, before I share it.
As for New Year's Eve we had friends over, who have a toddler themselves. So the food for the evening was something among the idea of tapas, or dishes that could be eaten all over the evening, without getting mushy or overdone and so on. The night before New Year's Eve, I began with the Guacamole.
I'm currently taking a parental leave of around 2 months (if you count in the two weeks "pre-arrival" vacation, it's even longer) and that gives me a lot of time to spend with my new-born daughter. It is quite overwhelming, satisfying and exhausting, everything at the same time. She sleeps a lot and I spend that time to support my wife (who is doing an amazing job on being a mother), cooking and trying out some new recipes, as well as of course enjoying a bit more time than usual in my "hobby den".
Our baby carrier arrived this weekend and but we waited to put into use until today, with the help of our midwife, to make sure we do nothing wrong. And what can I say, having to free arms / hands is a game changer. I tell you, eating gets a lot more difficult if you only have one free hand and it's even more difficult if it is your off-hand. The little one loves the proximity and some of the basic stuff I can do with here in front of me. But I'm covering all the parental things on Little Big Adventures (in German).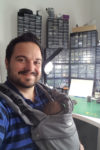 So what am I currently tinkering about? Well, last Sunday Daniel / Dino (freshly baked dad himself) dropped by, we talked about his upcoming Konflikt '47 Italy army and what possibilities for conversions are in the room. I can tell you, quite a lot. But he'll cover that in separate articles. I took a break or better said interruption from the dominantly historic ww2 reviews, from those Tigers, Hetzers and Marders. I do like those kits and they are fun to build, but a bit more variation is a healthy thing to do, I added a bit of fantasy and sci-fi in there, along with different historical epochs.
How do introduce this article? Some of the regulars may be aware of the food and cooking content on here, (like last christmas' Pulled Turkey, or home made fried chicken) and I stumbled across a recipe from Spiegel Online (yeah, a bit weird, but hey you're on a Wargaming Blog reading about food, so don't judge me) on Veggie Christmas Dinner. I liked the idea of the puff pastry dish and talked with my mom about a potential christmas dinner (and she suggested Pork Wellington). So with Wellington although being the capital of New Zealand, and reminding me of my trip in the late summer, I was ready to go.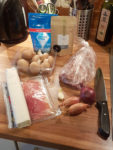 I am back from a long day at the Internationale Spieletagen SPIEL '15 in Essen. Oh Boy, what a day! The journey began with a solid traffic jam (there were problems with the local traffic in Essen, so many people who normaly would have taken the train, came to the show by car ...) and the first time a rainy day at show. Never happened to me once in the last decade. But never the less, i spend a great day at the show, and i want to share my impressions with you.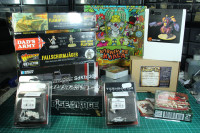 Next up, another regular at many shows, is the Fantasy Warehouse from Iserlohn.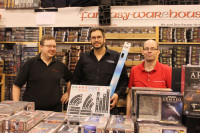 Third and final part of my Impressions, start with Warlord Games.
On thursday, october 8th, the Internationale Spieltage or short Spiel in Essen start again. The largest show for boardgames goes on for 4 days and there is going to be a lot to see.

A brief sign of life after this exhausting weekend. I build the new Eldar wraithguard earlier this week. The kit is quite nice with a lot of options, but the price is pretty ridiculous ... never the less, thanks a lot to Christian and Alexander from MiniWargames Wuppertal for the Box.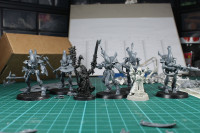 Last weekend i was in Nuremberg, City of one toy show, and this week i'll head to Essen, City of the other toy show.
But lets start with Nuremberg, interesting city, great food, delicious beer and a really nice old town.