Around early summer last year, I added another light vehicle (a T-26) to my Spanish Civil War (SCW) army. And I am always looking for further, small and/or light (armoured) vehicles to add to this project.
I knew about the heavy field car Krupp Protze being used by the Wehrmacht, mostly as Sd.Kfz. 70 or 69. As it was service since 1934 until the end of world war 2, it would fit into the time frame of the SCW. But when I found this picture in the spanish Bolt Action group on facebook, in service of the nationalist army during the spanish civil war (as Sd.Kfz. 69 towing a PaK 36), I thought it might be a good addition to that project.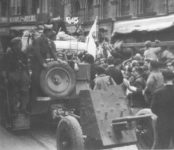 And indeed, it would be a good fit for the Bolt Action project. I play the Nationalist as an early war army and the Krupp Protze is simply a heavy field car with a transport capacity of up to 6 and / or a tow for smaller guns. As it would be either a nice transport for a small veteran unit, or to tow a PaK 36 as it is shown in the picture. The civil war was even the first theatre of war, where the gun saw action. So "fluff-wise" we're absolutely safe here.