I already talked about the possibilities of this kit in the review on the Slave Ogryn Gang for Necromunda, but now it is time to let some actions follow those words.
These are not the first ogryn sized models within the Warhammer range, and as we how quite the few bits to choose from for some kit bashing it was time to see, what would work.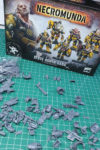 The most obvious kit to look into would be the Ogryns / Bullgryns kit from the regular 40k range. The heads fit the size, but need a bit of green stuff on the neck, as the connection is different. A fist from the Kastellan Robots could be interesting to mix up the augmented power fists, and with the Slave Ogryns being often pit crew or mechanic, a few tool bits from the Genestealer Cultists or similar items from the Orks (in this case the biker) a good choice as well.