Didn't I mention last month that I had Corona and thought I was finally in the clear? Well, only a short time later, most likely aided by the Corona infection, it turns out that I had a mild case of pneumonia. Thank God I was able to put this chapter behind me as well and I am doing quite well again.
Accordingly, the time for painting has suffered a little this month, but fortunately, I was still able to achieve one or two milestones in my annual plan. First of all, I'm happy to announce that I played my first game of Rangers of Shadow Deep.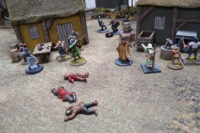 Tabletopwelt forum users Erkwin and Saranor invited me to a game night and played a game of Rangers of Shadow Deep with me. In the upcoming weeks I will write a narrative report about the two scenarios we played, which you will be able to read as usual on the Chaosbunker.